Medium length hairstyles have made a comeback, and how? Many celebs have been spotted flaunting this hairstyle. From Chris Hemsworth to Bradley Cooper, medium length hair is everywhere. Giving you a plethora of choices to style your mane, this hairstyle is here to stay.

In the following guide, we'll explore some of the best medium length hairstyles for men this year. From the classic collar-grazing shag to the suave side-part to the rock n' roll rugged crop, the patterns and vibes are limitless. Upgrade your look with one of these suave mid-length cuts guaranteed to draw gazes and compliments.

So, say goodbye to bad hair days. Medium length haircuts for men are turning tides and we are here for it. Read on to discover the coolest crop, the sleekest swoop, and the hottest halo of hair.
1. Curtains
It's a pretty cool style that can give your look some edge. The basic idea is having the bangs or fringe hang down over your forehead, parted in the middle. But hey, you can totally play around with how you part it and the texture. We think it looks sick on guys with some waves or curls in their medium length hair. It's got that grunge vibe, you know?
The fringe helps bring attention to your eyes and face without looking over the top. So, if you want to go for something hip and rocker-ish, we'd say try out the curtain cut. See how you feel about parting it in different ways, letting it air dry for texture, etc. Make it your own.
2. Pompadour
If you're looking for slick medium length hairstyles for men, you need to check out the pompadour. This signature 50's rock n roll cut started with the King himself – Elvis. The pompadour has major staying power, and for good reason. It's all about getting volume and height up front to create that eye-catching sculpted shape.
Here's what you do – blow dry your hair going upwards while brushing it to boost it at the roots. When you've got that lift in place, you'll have some serious style going on. Fair warning: the pompadour commands attention. So make sure you've got the confidence to pull it off!
With its smooth silhouette and timeless vibe, the pompadour just oozes iconic retro sophistication. It can elevate any guy's look. Are you into trying out this iconic style?
3. Shag
This cut was huge in the '70s with its chilled-out vibe. It's all about choppy, piecey layers that give your locks movement and texture.
The best part is how flexible the shag is. It works with different lengths and textures – thick, thin, wavy, curly… you name it. The layers just enhance whatever hair type you have. And they add volume, which is perfect for medium length manes needing a boost.
Today, the shag remains one of the most popular medium length hairstyles for men because of its laidback swagger. No need to fuss over styling – just let those layered locks do their thing. You'll get that bedhead look with attitude. Effortlessly sexy.
4. Surfer Hairstyle
You should think about this look, which is all about that beachy, salty, windswept hair vibe if you're looking for a cool medium haircut for men.
Picture the surfers back in the 1950s catching waves with the sun in their eyes and the ocean breeze running through their hair. That's the aesthetic – totally chill and carefree, like you just rolled out of bed and headed straight to the water.
The beauty of the surfer style is that it works with different lengths and textures. Curly, wavy, thick, thin – have fun and embrace your inner beach bum!
5. Bro Flow
Have you checked out the bro flow? It's one of the killer medium length hairstyles for men . Just let your locks do their thing. Maybe finger-comb it for texture. No need to fuss with products or styling.
The bro flow gives off a chill vibe with zero effort. It works for different hair types, too. Whether your mop is curly, thick, or fine, embrqace the messy flow.
So, if you're looking to switch up your style while growing out your hair, give the bro flow a shot. It's laidback and cool without even trying.
6. Blowout
Achieve that windswept look with the voluminous blowout, one of the sexy medium length hairstyles for men. Get this style by blow-drying your hair up and backward to boost volume and create the illusion of effortless fullness. Use your fingers and a round brush to lift the roots as you dry.
Apply products like sea salt spray for the ultimate tousled texture. The key is to create loads of volume on top while tapering the sides. Keep those trimmed close with fades or undercuts for contrast against the volume up top. The blowout medium length haircut for men pairs perfectly with any face shape and gives off an irresistible cool-guy vibe.
7. Medium Length Haircut With Drop Fade
The drop fade offers a modern twist to complement medium length hairstyles for men. Unlike regular fades, this one has hair tapering around the ears and neck in a subtle rounded shape rather than a straight line. It creates interest and dimension, allowing the longer hair on top to take center stage.
The drop fade frames the face and works well with various styles like pompadours, quiffs, slick backs, and more. It also looks great with curly and Afro-textured hair types. This versatile fade medium haircut for men adds depth and style without being too dramatic. Ask your barber to cut the drop fade to your ideal height and shape for a customized finish.
8. Medium Length Slick Back
The slick back is one of the timeless medium length hairstyles for men that oozes sophistication. Sleek your hair neatly backward with a good quality pomade or wax. This pulls the front of your hair away from your forehead for a polished look.
Keep the neckline trimmed to prevent wispy ends from sticking out. A side-part variation offers a classic touch. For a modern edge, pair your slick back with a fade or undercut on the sides. The slick back works with straight, wavy, or curly hair as long as the product is used to control frizz. This suave men's medium length hairstyle is perfect for both business and pleasure.
9. Medium Length Natural Wavy Hair
For men blessed with natural waves and curls, embracing a medium length showcases this gorgeous texture. Allowing those locks some length lets the waves shine rather than keeping them cropped short.
Add layers and texture on top to encourage the curls to pop even more. Let your hair air dry or blow dry on low for extra volume. Fade or taper the sides to prevent them from puffing out. This is one of the carefree, casual, medium length hairstyles for men looks great on anyone who wants to show off a relaxed vibe.
10. Medium Length Haircut with Burst Fade
It's a slick taper cut that works with medium length hair, too. The stylish shades are super close around your ears and neck in a rounded shape. Looks so clean.
You can rock it with a subtle Caesar up top for an understated style. Or pair it with a bold frohawk or modern mullet if you want to stand out. However you wear it, the burst fade adds a modern edge to your medium length locks.
If you're looking to upgrade to some cool medium length hairstyles for men, ask your barber for a burst fade. It'll give your hair a fresh new look.
11. Medium Length Haircut With Mid Fade
The mid fade offers a happy medium between high and low for guys wanting a fade with their medium length hairstyle. As its name suggests, this taper begins fading hair just above the ears, creating a balanced look.
The mid fade frames the face while gradually blending the sides with longer hair on top. Pair it with a combover, faux hawk, quiff, or messy textured style up top.
Keeping the mid-fade section trimmed and neat will maintain the contrast against the length. This medium fade haircut allows you to change up your style while enjoying the best of both worlds.
12. Medium Length Undercut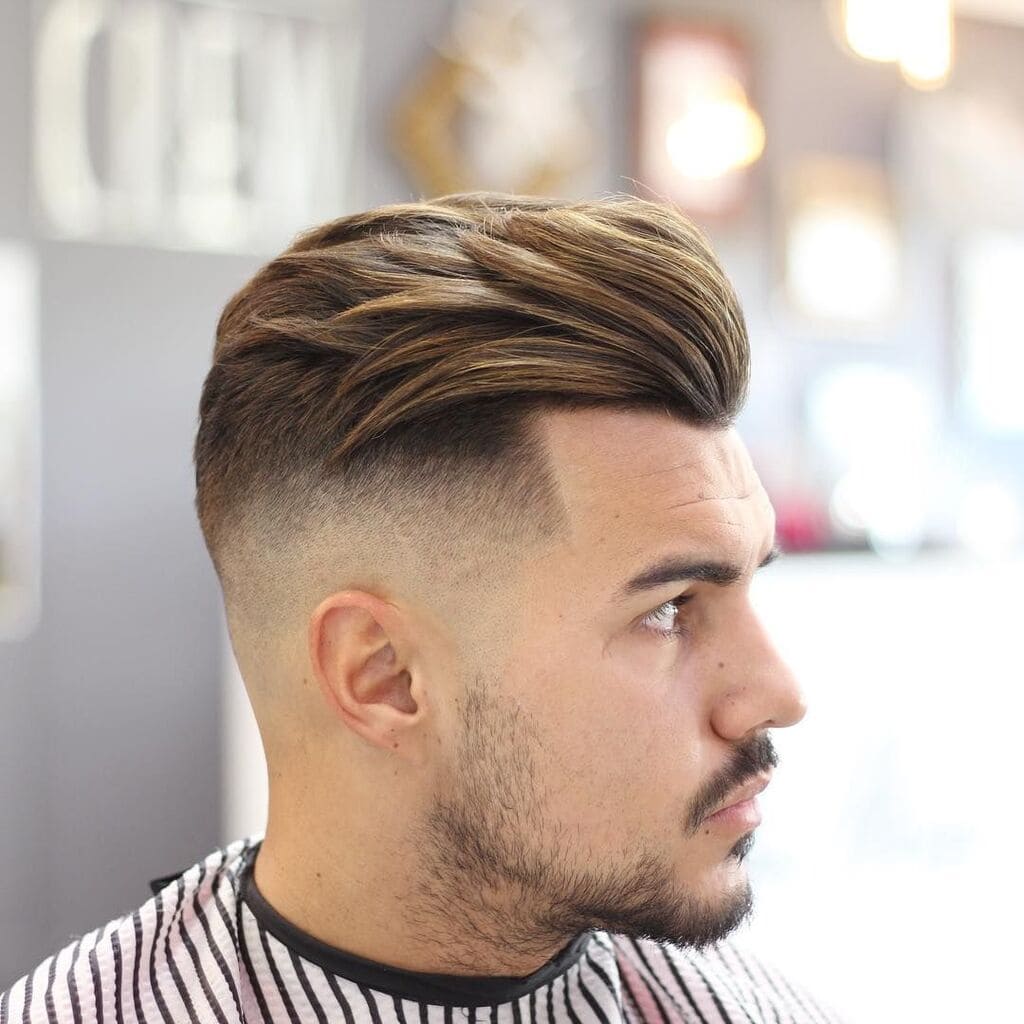 The undercut has made a major comeback as a top men's style. It features longer hair on top with closely buzzed sides and back.
The versatility is what makes it so popular. Transform it hourly from edgy to elegant. The undercut adapts well to different face shapes, too. Just play with the length on top and how dramatic you want the shaved sides.
Really, all you need is some styling products and creativity. Sculpt, spike, sweep – let your imagination run wild! The undercut gives you the freedom to re-invent your look whenever the mood strikes.
13. Medium Length Tousled Hair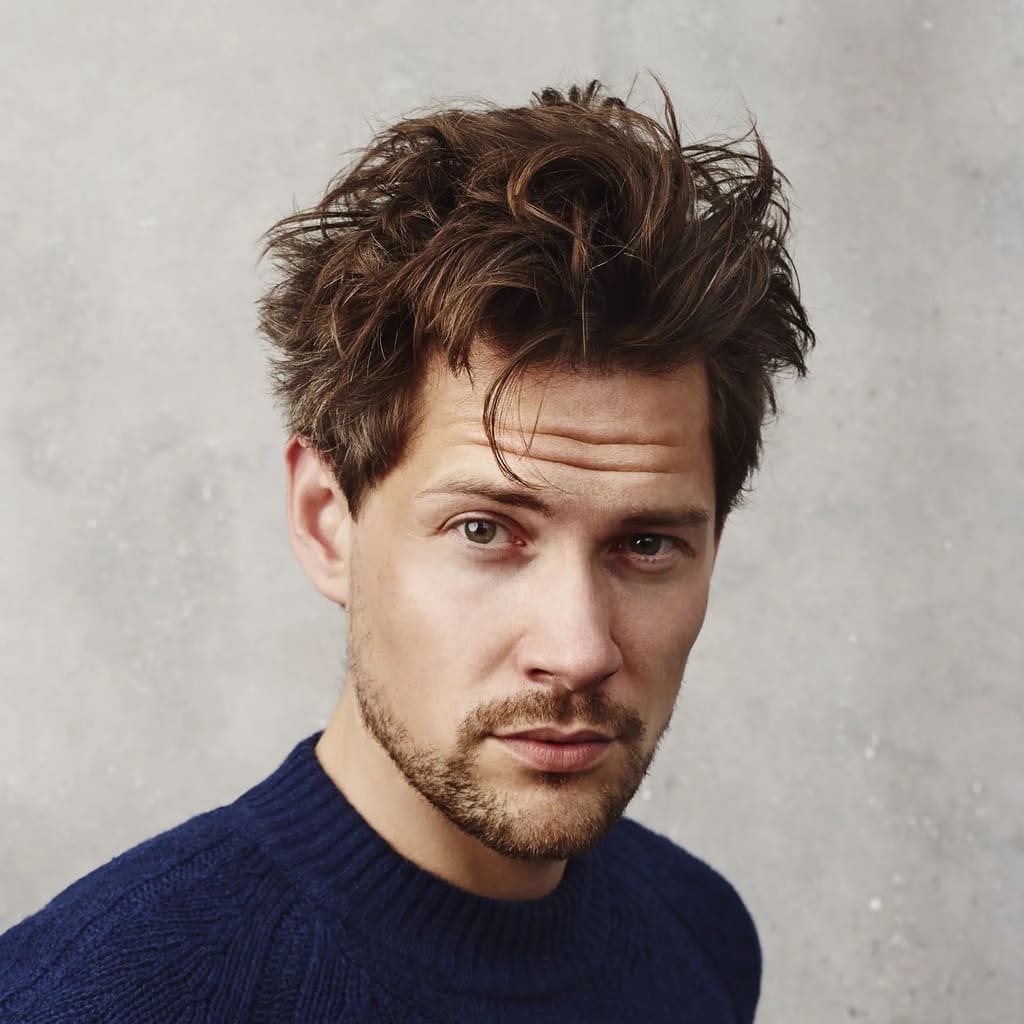 Channel that sexy, natural bedhead vibe with tousled medium length hair. This intentionally undone style makes it look like you just rolled out of bed in the best possible way.
The key is even layering and chin or shoulder-length hair with natural waves or curls. The tousled look works for any face shape or hair type, seeking effortless cool. This is one of the medium length hairstyles for men that kills it at the beach, bar, or just bumming around.
14. Medium Length Haircut With Low Fade
The low fade provides a classic yet stylish pairing with medium length hair. As its name suggests, this taper starts fading hair low around the temples, ears, and nape. It lends a subtle shadow effect rather than a dramatic contrast like a high bald fade.
Style it with a side part, comb over, slick back, or textured crop to complement the low tapered sides. Keeping the fade section trimmed is key for maintaining definition. The low fade is among the most versatile options for medium length hairstyles for men.
15. Medium Length Haircut With High Fade
Amp up the edge with a high fade to accompany medium length locks. This taper starts fading hair higher up the sides and back for increased contrast with the longer top section. The high fade creates a bold look, drawing eyes upwards.
You can make it a "high and tight" or a more gradual fade, depending on your style. Just keep that high fade portion trimmed close to keep it crisp. This eye-catching fade haircut gives medium length hairstyles for men a contemporary jolt.
16. Medium Length Mullet
The mullet has made an ironic comeback, and this bold style indeed makes a statement with medium length locks. Business in the front, party in the back – the mullet pairs shorter hair on top with longer hair flowing in the back.
The dramatic contrast creates an edgy, almost retro look. The trick is getting the proportions right – don't take the back too long or the top too short. The style works best with thick, straight hair. Amp up the edge with a fade on the sides. The mullet allows you to change up your medium length hairstyle and show off some rebellious personality.
17. Medium Length Haircut With Bald Fade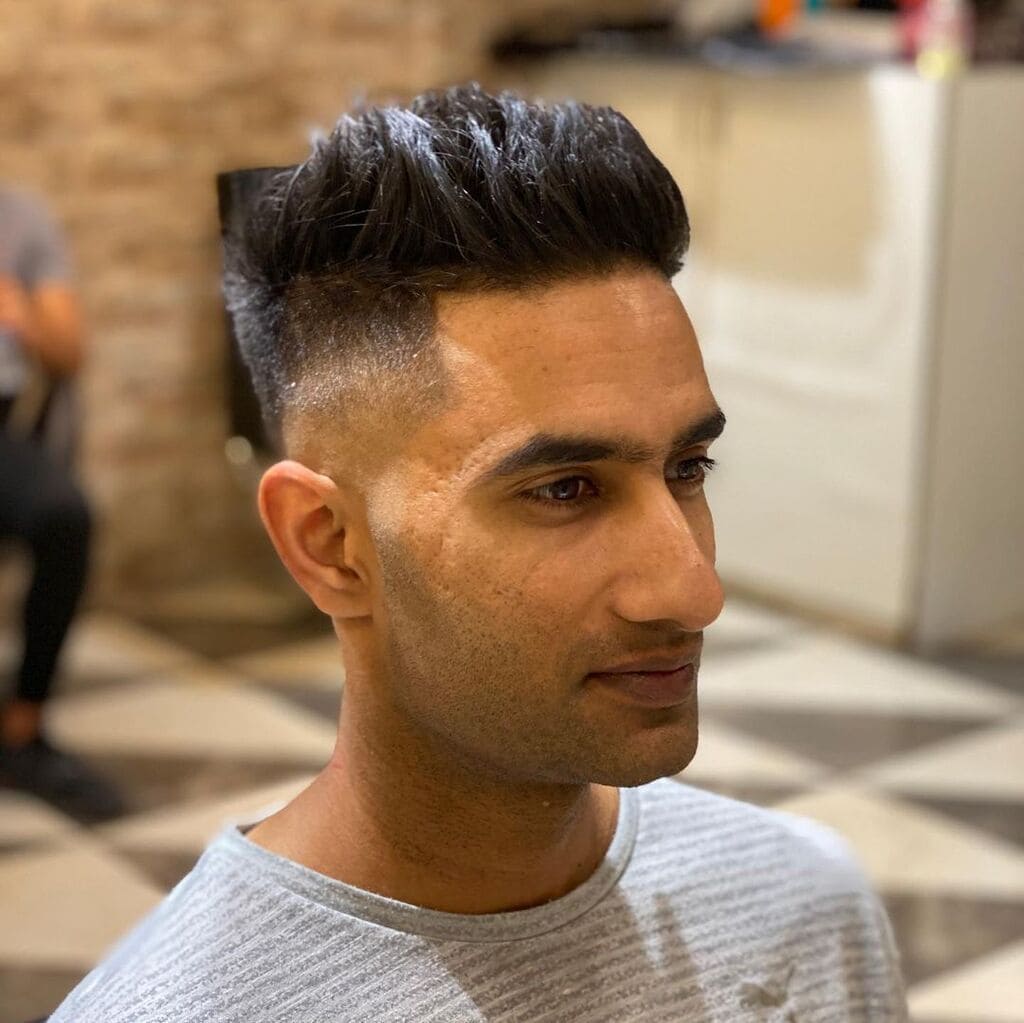 The bald fade seriously boosts contrast for an eye-catching medium length men's cut. Hair on top and in the back is kept longer, while the sides are shaved completely smooth. This creates a super sleek, masculine look that pairs well with any medium length style.
However you wear it, the bald fade makes a statement. The sharp disconnect between longer hair and buzzed sides keeps this look bold and polished.
18. Medium length Hair With Hard Part
Despite the name, the hard part is an effortlessly edgy style for medium length hair. Your barber creates it by realigning your natural part to make a defined new part, usually above the temple. It adds bold definition as the hair below the part is trimmed close, leaving the hair on top longer and ready for styling. The contrast makes a statement.
A hard part instantly upgrades your look and works with styles like pompadours or combovers. It's a simple yet eye-catching detail that emphasizes the disconnect between your sleek sides and voluminous top.
19. Medium length Hair With Quiff
Give your medium length locks a stylish lift with the voluminous quiff. This timeless hairstyle features hair brushed up and back from the forehead into a soft wave. Focus on creating lift and volume in the roots and crown area when styling.
The quiff works with various hair types and face shapes. This is one of those classy yet eye-catching medium length hairstyles for men that pairs nicely with business or weekend casual attire.
20. Medium Length Combover
The side-swept combover is a perennial favorite for medium length men's hair and for a good reason. As the name suggests, it's charmingly simple to do – just comb your hair over from one side to the other.
Minimal styling is required, maybe just a little gel for hold. That effortless vibe is part of why guys of all ages dig this look. Just create a part on one side and sweep those locks over – boom, you've got instant style.
Another plus is it's a great optical illusion for thinning hair, recreating fullness in a snap. For dudes wanting an easy, casual cut that fakes great hair days even when you roll out of bed, you can't go wrong with the classic combover. Its no-fuss approach keeps you looking polished.
21. Medium Length Afro
The afro remains one of those beloved medium length hairstyles for men with natural curls and coils. Allowing those kinks and swirls to grow brings out the gorgeous texture. Shape the afro into a rounded halo, tapering the sides and back close to emphasize the volume on top.
You can opt for a high-top afro or pick out a frohawk shape if you want to make it edgier. Finish it off with a line-up around the forehead and nape for extra definition. Don't be afraid to let those curls take center stage.
For a healthy growth, keep Afro-textured hair moisturized and use a wide-tooth comb. This empowering medium length haircut for men is all about celebrating natural hair.
22. Medium Length Spiky Hair
Channel punk edge and youthful attitude with spiky medium length hair. Allowing for added height, this medium haircut for men accentuates the spiked effect. Style your hair up and outwards from the head, using a good quality pomade or gel to separate and define the spikes. Lift the roots as you blow dry for maximum lift.
Pair this textured style with tapered or faded sides – contrast is key. You can sharpen the look with defined spikes or go for a more tousled, just-rolled-out-of-bed vibe. This is one of those medium length hairstyles for men that works best with straight, thick hair but can be adapted for any hair type wanting a bold, stand-out look.
23. Medium Length Fringe
Bangs have made a major comeback, taking medium length hairstyles for men to the next level. The fringe allows you to customize your look and frames the face in a flattering way. You can opt for a textured, swept-across fringe for casual flair or go for a heavier bang that hits the eyebrows for a daring statement.
Keep the fringe on point, cutting into the ends – this prevents it from falling flat. Use a small round brush while blow drying to build the body and bounce. Fades and undercuts complement the fuller fringe on top. This is one of the versatile medium hairstyles for men that flatters oval, square, and diamond face shapes beautifully.
24 Medium Length Faux Hawk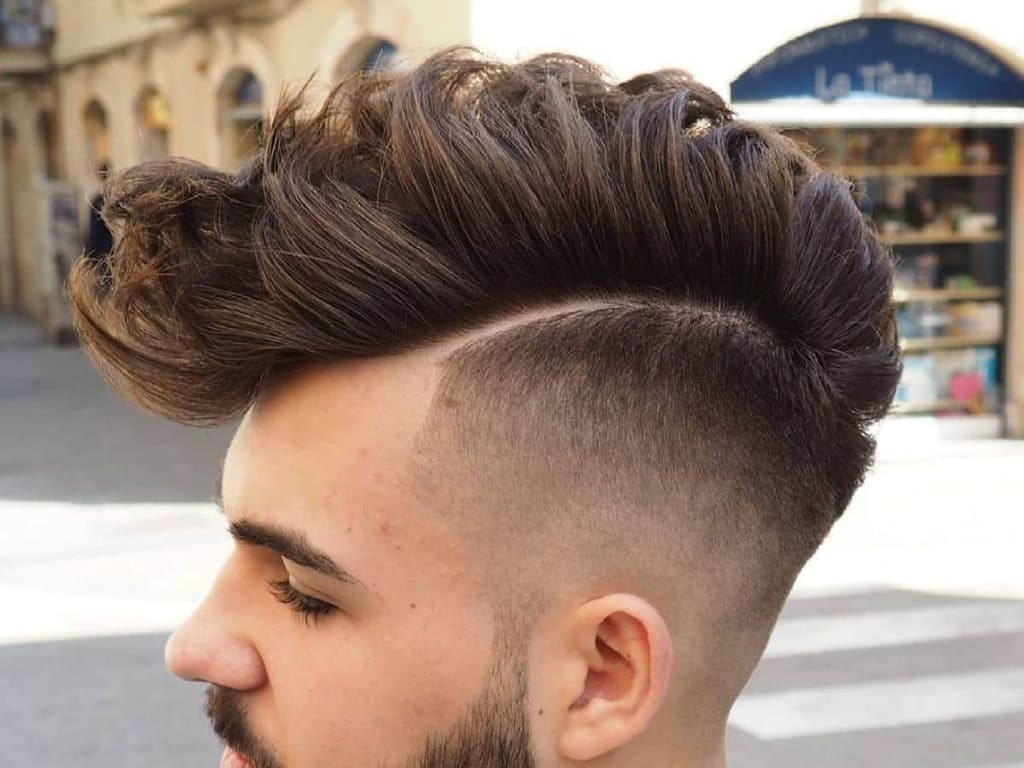 The faux hawk is a versatile style that lets you change up your look from day to night. With medium length hair, it works for guys who want to keep it professional but still express their edgy side.
Style it with a mohawk silhouette, spiking the strip of hair down the middle while slicking the sides back smoothly. It projects a bold, punk rock vibe. But unlike a real mohawk, you can also brush the faux hawk forward or back for a polished style perfect for the office.
No crazy glue or maintenance is needed! The faux hawk gives you options to switch it up whenever—look clean-cut and corporate-ready for work, then mess it up and show your wild side when playtime comes. This medium length look lets you get the best of both worlds—proper professional or punk rebel—with just a comb and some product.
25. Medium Length Natural Curly Hair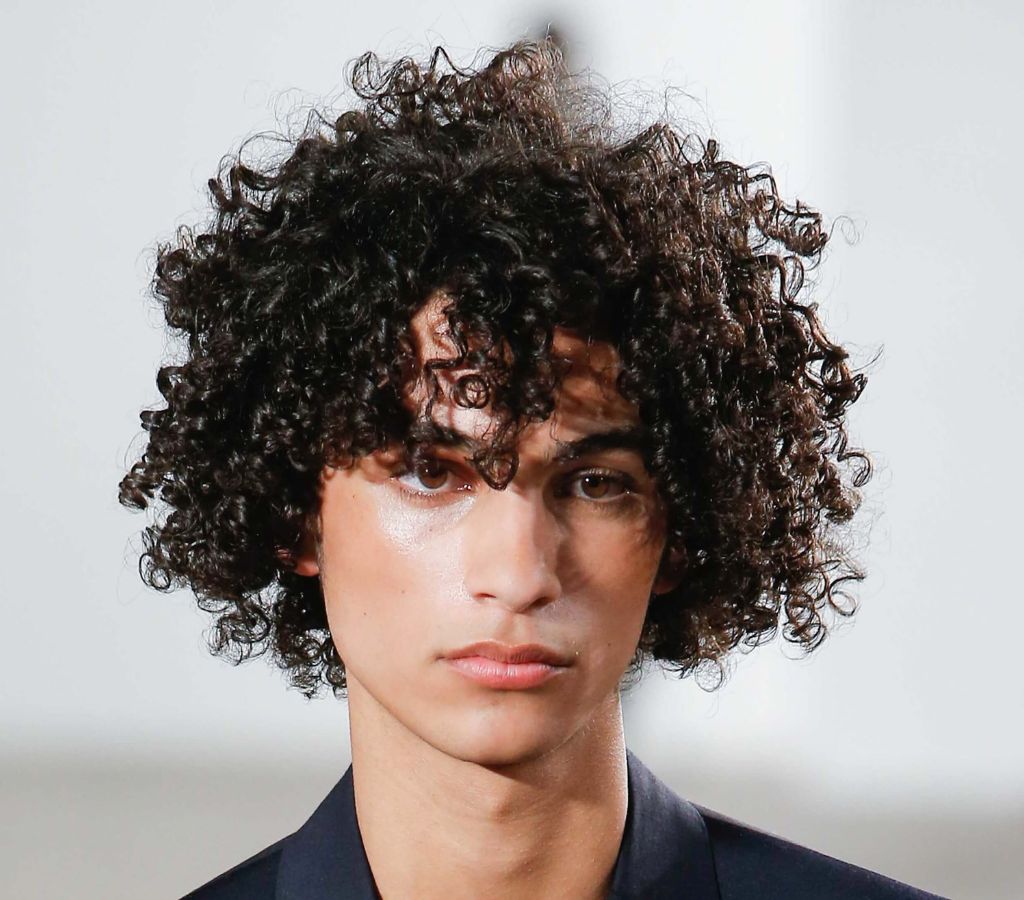 Curly-haired guys, let's be real – you won the hair lottery. Those coils are a built-in style statement! But to make the most of your texture, you need to show it some love. Skip silicones and sulfates in favor of moisturizing cleansers and conditioners.
Embrace creams and gels over oils and serums for better hold and definition. Then, enhance your curls with the right cut. A fade or undercut spotlights their shape. Shorter sides and back prevent the dreaded "triangle head." Or go bold with braids, a pompadour, or anything else that shows off your coils' full potential.
Flaunt what your mama gave you! Whether you go natural or high fashion, your curls give you an endless array of medium length options.
FAQ
What hair length is best for 2023?
We'd say medium length cuts are at the top. These adaptable mid-length styles let you style your hair in many ways, from delightfully messy texture to sleek sophistication.
Are fades out of style?
Not at all! Fades and undercuts make for appealing contrast paired with medium length hair on top. So fades remain a strongly recommended option for shaping and styling men's hair this year.
What is the new hairstyle?
We'll see more gents embracing their natural texture with longer, curly hairstyles. Texture and volume will be in. With the popularity of the perm and shag we anticipate guys continuing to experiment with looser, wavier locks. We may see longer perm styles as well as longer natural curls and coils becoming fashionable for men.
Final Words
Embrace the trend of medium length hairstyles for men and experience the versatility of mid-length locks. This is your time to unleash your inner rockstar. Skip the buzzcuts and man buns for now. Unlock your stylistic potential and make those medium lengths effortlessly stylish without much ado. Own your swagger, and let your hair make a statement this year!
In Case you Missed it: