Hand tattoos are very popular; today you can see many people sporting attractive hand tattoos across the world. Do you know what makes the hand a preferable place for having tattoos? The simple answer to the question is that the hands are barely covered. Over years, women have taken a special liking for their hand tattoos as they can boldly flaunt it. There are many amazing hand tattoos for women that you can opt for.
You can also choose sub-placements like – the palm, the finger, the thumb, etc. You can also choose to get a tattoo that covers the entire hand.
Let's see some beautiful hand tattoos for women.
1. Small Crystal Butterfly Hand Tattoo
The butterfly is the representation of beauty, freedom, and transformation. The butterfly tattoos can be small and can easily fit on the hand. Choose an attractive color like light blue, as it will look very attractive and create a transparent crystal-like effect.
2. Single-line Hand Tattoo
If you are minimalist, the lines and simple shapes of hand tattoos for females will definitely amaze you. It is a single-line tattoo on the side of the hand. This is not a common tattoo that you will find easily.
3. The Eye of Ra
Want something unique & meaningful? This tattoo can be the perfect choice. The Eye of Ra, also known as the Eye of Horus, is an ancient Egyptian symbol that represents protection.
4. Numbers Tattoo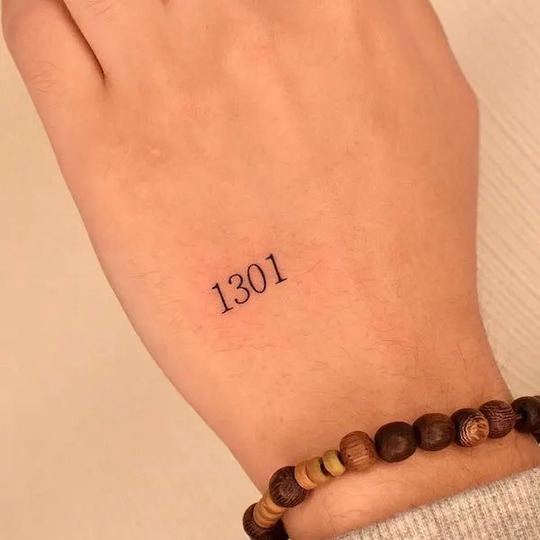 Some numbers can be lucky for us; you can get a tattoo of those numbers on your hand. You can also get your birth date, marriage date, or a date that is close to your heart tattooed on your hand. These are the one of the finest small hand tattoos for women.
5. Rose Hand Tattoo
A rose has always been a popular choice when it comes to tattoos. The rose represents purity, beauty, and love. You can get a rose tattoo in several colors and not just red. You can also go with different rose patterns to fit your style.
6. Semicolon Tattoo
The semicolon tattoo is an important symbol; it is related to mental health. It is a symbol of overcoming hardships in life. People going through mental issues use this tattoo as hope and faith to fight these problems. Many celebrities have inked semicolon tattoos as a support for people facing mental health problems.
7. Butterfly and Red Knot Tattoo
In eastern countries like China and Korea, the red knots are related to luck and happiness. It is a very beautiful tattoo and may bring you a lot of luck and happiness; it is really one of the best hand tattoos for women.
8. Pendant Thumb Tattoo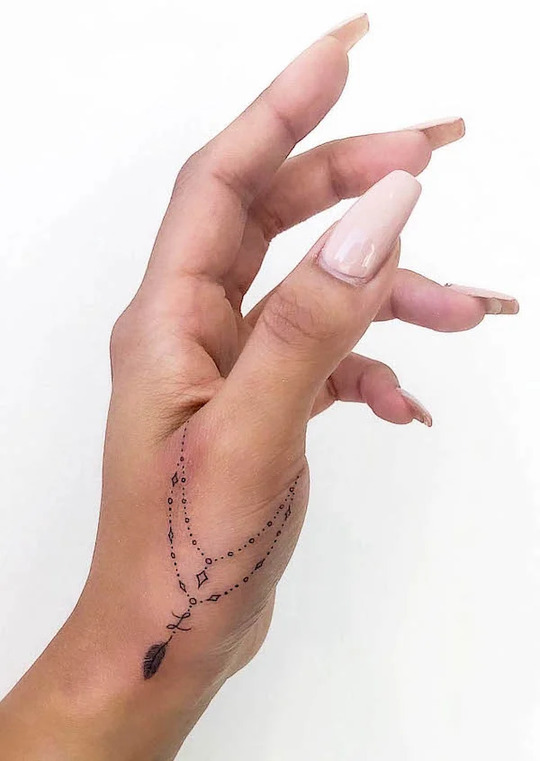 For some people, tattoos are a way of expressing themselves. For others, these tattoos are just like jewelry adornments, something that complements their style. This tattoo is for people who want to complement their style.
9. Mandala Tattoo
Mandala is one of the best female hand tattoos. A mandala is a design that represents the universe in some cultures. It is a versatile design that can be made in various colors and sizes of your choice.
10. Fine Line Butterfly and Constellation Hand Tattoo
This tattoo is in the trend nowadays. These delicate and unique designs are one of the best ways to show your personality and give a touch of style.
The butterfly hand tattoos for women can be black and white, and the constellation tattoos are in shades of blue & purple.
11. Dog Hand Tattoos
This tattoo is a perfect fit for you, especially if you are a dog lover.
You can customize a dog tattoo with the color and style of your preference. You need to consider your skin tone while choosing the fur color of your dog.
For people with light complexion, go with darker colors like black or brown. If you have a dark complexion, then go with the lighter colors.
12. Geometric Hand Tattoos
There are a lot of options when it comes to geometric tattoos. You have an option to choose a simple design or a complex one.
Black & white are the most popular colors for this tattoo. However, you can also add some colors to it if you are bold enough or want to stand apart from the others.
13. Dot Hand Tattoos
If you are looking for small designs, the dot tattoos can be your choice! They incorporate geometric shapes or simple patterns and can be customized to your style.
The color scheme is one of the most important things that you need to consider while getting a dot tattoo.
14. Bird Hand Tattoos
Do you know what can make you stand out from others? A bird tattoo. You will find very few people sporting this tattoo.
You can also add some unique details to the tattoo. Another way to make it unique is to choose some attractive color schemes for your tattoo.
15. Medusa Hand Tattoo
A Medusa is a unique and eye-catching tattoo design. The main highlight of the Medusa tattoo is of course her hair.
The Medusa hand tattoos for women have bright colors like green, purple, and yellow. But you can also look for some subdued black and gray ink designs.
Most of the hand tattoos include other elements apart from the snake head, like flowers or leaves. You can also choose designs that incorporate other symbols like skulls or crossbones.
16. Floral Bracelet Tattoo
This is a bracelet tattoo which wraps around the arm. The combination of green & white adds freshness to the tattoo, making it a good choice for young girls.
17. Star Hand Tattoo
There are limitless possibilities when it comes to the star hand tattoos for women. When it comes to color, you can choose the black and gray tattoo or go with a brighter shade.
If you are looking for something small and subtle, you can go with a single-star tattoo. You can also try the cluster of stars or a starburst design.
18. Lotus Hand Tattoo
The lotus hand tattoo is a beautiful & unique design tattoo.
The lotus is a symbol of purity & enlightenment, which makes it a great choice for a tattoo design.
19. Heart Hand Tattoo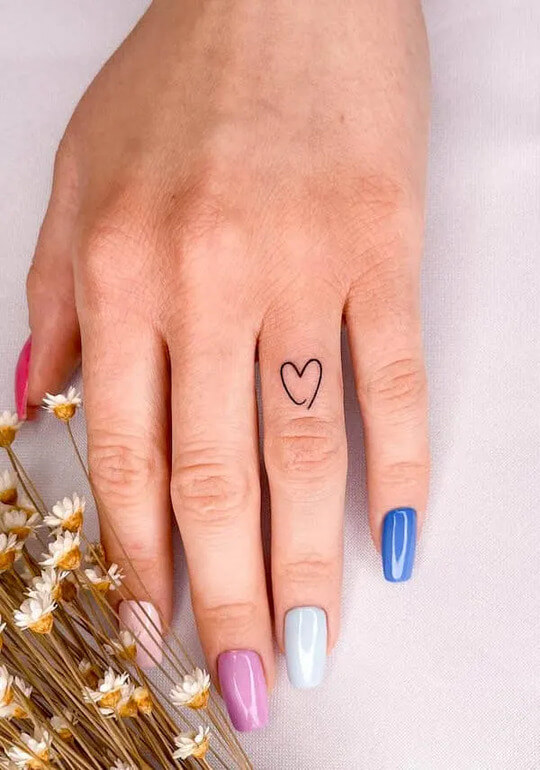 Heart tattoos are a popular choice for women. These kinds of tattoos are very attractive. You can decide the size of the tattoo whether you want to go for a big or small heart.
There are a lot of possibilities when a heart tattoo is concerned. You can go with a traditional heart shape or be creative with other shapes & symbols!
20. Moon Hand Tattoo
The color schemes of a moon hand tattoo can vary a lot. You can go with white, silver, and blue colors. The tattoo can also have stars, planets, and other celestial bodies.
21. Wolf Hand Tattoo
Wolf hand tattoos are for the bold ones! It shows loyalty, integrity, strength, and love. So, if you also have all these values, you can go with the wolf hand tattoo.
22. Trees and Leaves Female Tattoo Design
This is a minimalist tattoo that displays simplicity and an awareness of the cycle of life. If you are looking for a simple tattoo with deep meaning, this can be a good choice for it.
23. Quote Tattoo
You can also get a quote tattoo inked on your hand. Go with a popular quote or the one that you resonate with.
24. Small Heart Tattoo
If you are looking for small hand tattoos for women? This can be the right choice for you. You can choose to go with the traditional red color, or you can also experiment with other colors for the heart if you are bold enough.
25. Horseshoe Tattoo Design
The horseshoe is a unique tattoo, and it symbolizes good luck and success. Therefore, it will not only look mysterious and mesmerizing but also act as a good luck charm to you.
FAQs
What is the pain level of a hand tattoo?
The hand is a sensitive area, and you may have to undergo a lot of pain when getting inked. The pain level will be a full 10.
Can I use numbing cream before a tattoo?
Yes, you can; it may reduce the pain of getting a tattoo. 
How much time does it take to heal a hand tattoo?
It may take 15 to 30 days to heal a hand tattoo. 
Conclusion:-
So, these were some of the best hand tattoos for women. You can either choose one of the above tattoos or get one you wish. These tattoos look very attractive. You can either go for a cool design or opt for something with deep and profound meaning.
Explore Further:-