Want to express yourself in a stylish way? Try patchwork tattoos. They are a bunch of small tattoos grouped together to create a patchwork on your skin. There is little empty space between each design to create an amazing look. Instead of going with a single tattoo design, you can choose multiple small designs of your choice. It will cover a good portion of your skin and give you a unique appearance.
You don't need a theme to get these tattoos. It can be a combination of little things to fill the space. You can even leave a good amount of space and add more tattoos to the patchwork in the future. From Adam Levine and Zayn Malik to Ruby Rose and Lionel Messi, many celebrities sport patchwork tattoos on their body.
If you are looking for cool patchwork tattoo ideas, keep reading. In this blog, we are going to discuss about best patchwork tattoos for men & women.
What Are Patchwork Tattoos ?
Patchwork tattoos are small and medium-sized tattoos arranged in a manner on your skin, like iron patches on a denim jacket. These tattoos are very close to each other, with little space in between. These tattoos are visually appealing and can transform your whole personality. They are all about freedom of expression to create a unique work of art.
Here are the amazing patchwork tattoos for both men and women:
1. Patchwork Sleeve Tattoo
One of the most common types of patchwork tattoos is sleeve tattoos. As your sleeve is easily visible, you can use it to create multiple different tattoos. It lets you combine multiple different designs on your sleeve, from your bicep to your wrist. With more space to cover, you get more freedom to try different tattoos at once. Zayn Malik sports an amazing patchwork tattoo on his sleeve. You can use black ink or add colors as well to highlight specific tattoos that are more important.
2. Patchwork Arm Tattoos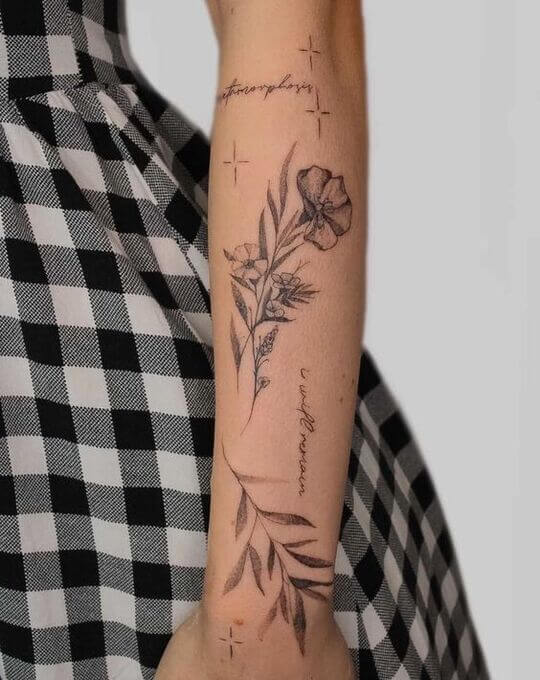 If you don't want to cover your entire sleeve, you can go with patchwork arm tattoos. As the name goes, these tattoos only cover your arm. While there is not much space, like with a sleeve tattoo, you can still try different designs. Arm tattoos are less painful and can really highlight your biceps if you are into fitness. These tattoos look good on lean as well as bulky arms with muscles. They are suitable for both men and women.
3. Patchwork Half Sleeve Tattoos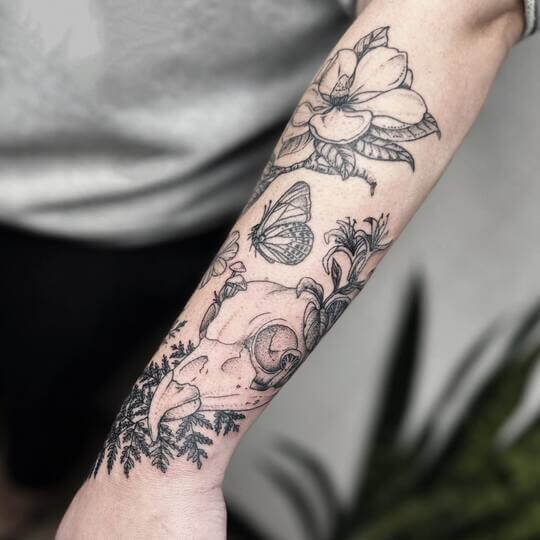 You can also choose half-sleeve tattoos if you don't want to cover the full arm. Here, you can cover the space from your forearms to your wrist. It is a great alternative to patchwork full-sleeve tattoos. If you want to cover up the tattoo, you can wear a full-sleeve shirt. These tattoos are more affordable and don't take much time and effort. You can choose different styles to choose from and create a perfect blend.
4. Finger Patchwork Tattoos
Another style you can choose is finger patchwork tattoos. These tattoos are really cool and can make your finger stand out. If you have long and thin fingers, these tattoos will look even better. These tattoos are really small, and you can try different designs on each finger. However, getting tattoos on the fingers can be a bit painful compared to other parts of the arm. So, make sure you choose the designs carefully.
5. Patchwork Leg Tattoos
One of the most popular placements for patchwork tattoos on the leg. Compared to other body parts, you will get more space on your legs and can even experiment with big designs. Instead of trying multiple tiny tattoos, you can even go with medium-sized tattoos on your leg. You can choose one leg or try tattoos on both legs. These tattoos are moderate on the pain level as the skin is thicker and there is more fat. You can get inspiration from Lionel Messi's leg patchwork tattoos.
6. Patchwork Thigh Tattoos
If you don't want to cover your entire leg with tattoos, you can get them on your thighs. These tattoos for women work best if you wear shorts. Also, you can easily cover your things with clothes for a clean look. The thigh is large enough to cover a good space with multiple tattoos. However, getting thigh tattoos can be a bit painful.
7. Patchwork Back Tattoos
Your back is the ideal place to create patchwork tattoos. You can get more creative with back tattoos, as there is a lot of space to experiment with. Most people try big tattoos on the back, like a big lion or tiger tattoo. You can either cover your entire back or just a part of it with smaller tattoos. Along with designs, you can also write quotes or a line from your favorite movie or book.
8. Patchwork Chest Tattoos
If you are looking for cool patchwork tattoos men, go with the chest area. Tattoos on the chest hold special meaning because they are close to your heart. It is one of the most painful places to get a tattoo, but if you want to create a more personal and meaningful combination, try the chest patchwork. Adam Levine, the lead singer of the band Maroon 5, boasts a great patchwork tattoo design on his chest.
9. Shoulder Patchwork Tattoos
You can also try multiple tattoos on your shoulder. This area represents power and strength and provides a good amount of space for a combination of tattoos. If you are into bodybuilding, these tattoos can boost your overall personality. The black ink can highlight your muscles and will look really cool when you wear a tank top with shorts, jeans, or track pants.
10. Patchwork Cloth Tattoos
It is a unique and different style of tattoo that looks just like a cloth texture. Instead of black ink, you can try different colors to create these tattoos. They are highly detailed and often have a 3D effect, making them appear like an embroidery. You can choose from different designs and colors to make the tattoos even more stunning.
11. Simple Patchwork Tattoos
Patchwork tattoos women don't have to be highly detailed. You can try simple designs that are easy to recognize. There are many people who love tattooing on their own skin. If you are one of them, you can make simple patchwork tattoos on your own skin. These tattoos are great for beginners.
12. Black Patchwork Tattoos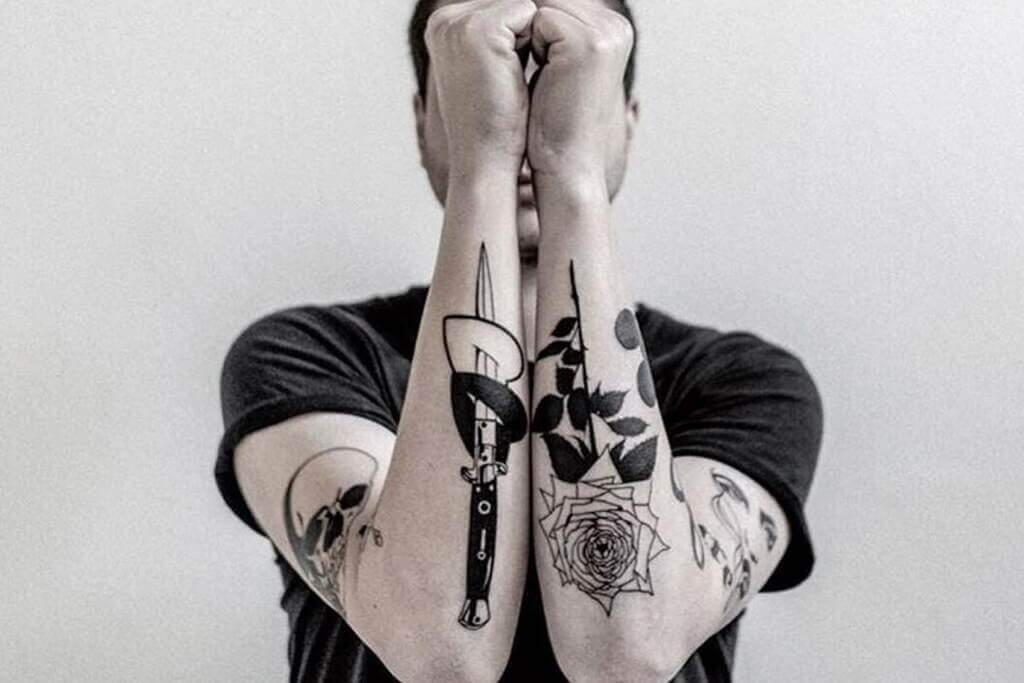 Black is the basic color for tattoos, and it looks even better than colored ones. If you are looking for a cool and edgy look, black tattoos are an ideal choice. A combination of small black tattoos will add a unique touch to your personality. Also, the color black lasts longer and doesn't need much maintenance. Dwayne Johnson sports a good collection of patchwork black tattoos.
13. Aesthetic Patchwork Tattoos
If you love art, you can try multiple aesthetic tattoos on your body. Patchwork tattoos are very versatile and can easily be used to create artistic pieces. You can combine different designs to tell a story or even represent milestones and memories that you can cherish forever. For example, you can try different anime designs or animal prints.
14. Traditional Patchwork Tattoos
Tattoos hold significance in many cultures and traditions. So, instead of regular designs, you can also choose different traditional designs. For example, you can try patterns, lines, and even designs of flowers. There is no need to add details as you can easily create artwork and shading. You can use black ink or two or three shades like red, blue, and yellow to make the tattoos pop.
15. Nautical Patchwork Tattoos
You can never go wrong with nautical tattoos, especially if you are aiming to create a patchwork. These themes have been a favorite among sailors who spend most of their lives at sea. You can try different designs like anchors, ships, compasses, etc. These tattoos can help you make a powerful statement and can even represent events in your life.
16. Patchwork Heart Tattoos
Heart-shaped tattoos are very common, but you can still try them to create a patchwork. They can represent different emotions like love, passion, desire, etc. You can try small as well as big-sized heart tattoos and highlight them by adding shading. Along with hearts, you can add other similar elements like fire, wings, chains, etc.
17. Patchwork Grunge Tattoos
If you are a fan of 90s rock culture, try grunge tattoos, as they represent dark and moody themes. You can use black color and add gray shading to create depth. There are many designs you can include, like snakes, knives, devils, ghosts, skulls, etc. These tattoos look good in different places – chest, arms, legs, back, and even your whole body.
18. Patchwork Japanese Tattoos
To create an entirely unique tattoo design, you can go with a Japanese folklore theme. These tattoos are different as they are bright, bold, and very symbolic. Here, black lines are used along with colors to fill the design. You can try dragon or phoenix designs with bright red, yellow, and green colors. You can also try koi fish design or even add symbols of your own.
19. Patchwork Skull Tattoos
For amazing patchwork tattoos men, you can choose skull designs. They represent death and destruction and can be really intimidating, especially on the arms and chest area. These designs are favorite among bikers and tough guys. However, you can add your own unique touch to these tattoos by adding small elements like butterflies, leaves, and Roman numbers.
20. Realism Patchwork Tattoos
Realism is a style of tattoos where the designs look realistic. They are highly detailed with shading to create a realistic effect. You can choose from designs like plants, animals, and even human faces. However, these tattoos need expertise, and it is best to hire a professional to do it for you.
5 Reasons Why Should You Try Patchwork Tattoos
Here are some reasons why you should try them:
1. Adaptable Style
You should attempt these tattoos mostly because they provide a variety of style possibilities. It is possible to acquire these tattoos in many locations and styles. There are a lot of different options and designs available for patchwork tattoos.
2. Individual Touch
You should also try these tattoos because they allow you to completely customize them to provide a special and individual touch. You are able to piece together your own designs that hold personal significance. It is also possible to combine various elements.
3. Appealing Appearance
These tattoos are not only artistically pleasing but also profound. Little designs put together form a stunning work of art on various body parts. They draw attention to themselves and enhance the visual appeal of your style.
4. Cover-Up
Intricate tattoo designs are useful for covering up. You can cover up a tattoo on your skin with a patchwork tattoo if you don't like the one there. Additionally, you may utilize these tattoos to give your already-existing ones a new, modern look.
5. Storytelling
These tattoos work well for narrative storytelling. Consider getting these tattoos to create a lovely narrative if you're the type of person who enjoys reminiscing about memorable events in your life.
FAQs
How Much Does It Cost to Get a Patchwork Tattoo?
It can cost anywhere from $500 to $ 5,000, depending on the size and design.
How Long Does a Patchwork Tattoo Take?
These tattoos take multiple sessions to complete as they combine different designs.
Are Patchwork Tattoos Good?
Yes, patchwork tattoos are good, as you can choose multiple small tattoos that look really cool.
Conclusion
So, here are the best patchwork tattoo ideas you can try to transform your personality. We have cool ideas and designs for men as well as women. You can choose from any of these styles to go for an entirely new patchwork tattoo or even expand your existing ones. You can even try these tattoos to cover up your old ones.
In Case You Missed It!