Fashion week has officially ended, and now it's time to take a look back at the amazing spread it served. Moreover, this year's men fashion trends spring/summer have created waves in the industry's landscape.

Fashion week bombarded us with creatively stunning inspirations – left, right, and center. We witnessed style evolve for sure, but more than that, we were happy to see how designers dressed up their male muses. It was STIMULATING, BOLD, & definitely BEAUTIFUL.

Not just that, the present era of designers, as well as shoppers, are embracing inclusivity. Therefore, gender-neutral clothing was also widely donned while promoting self-expression. So, do not be shocked to witness loud and bold men fashion trends spring summer.

If you want to look dapper and take the chic route, take inspiration from the ramp. In this article, we will cover the top 15 men's fashion trends from spring/summer 2024, containing several key styles. Read till the end to redefine traditional statements, push boundaries, and serve some eclectic looks.
1. Style it Sheer!
Sheer fabrics have made a grand entrance this season in menswear.
Designers like Palomo Spain interpreted sheerness in his line's lace-laden shirt. He also featured flowers over sheer corset tops that looked ever so romantic.
LaQuan Smith's collection showcased a dark-blue polo, a light-blue turtleneck, and a black-hued mock neck.
Eckhaus Latta tailored a mix of transparent and opaque fabrics to form shirts and torso-bearing tops.
The 'see-through' look emanates VOGUE like no other. So, if you want to slay this style but are a bit conscious, pull over a cool jacket on top.
2. Reimagined Workwear
Workwear is one of the most important fits in menswear, and this year's fashion week elevated it to the next level. Designers bought in the utilitarian vibe with big pockets, boots, high-shouldered collared shirts, etc.
LUAR displayed a subversive angle on formals. The fashion house included formal dress pants and collared shirts accessorized with studded armbands.
Dion Lee was all about that outdoor site-wear attire. He featured multi-pocketed denim trousers, scaffold-inspired jewelry, corsets detailed with wrenches, and boots with tool belts.
Furthermore, 'Who Decides War' presented jackets with huge pockets, tool-holder shirts, chunky trousers, etc., to set the men fashion trends spring summer 2024.
You, too, can adapt this style by buying formal cargo pants, jackets, or vests with big pockets.
3. Short it up!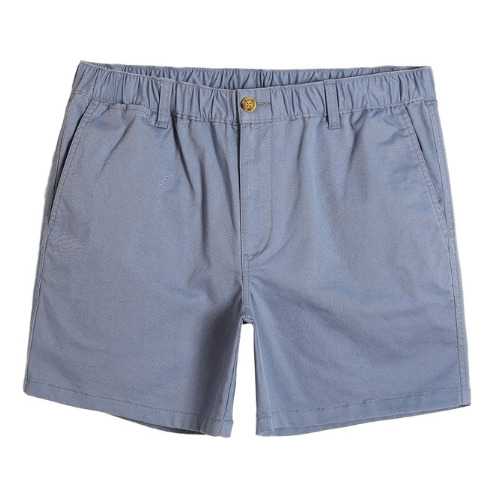 Warmer months call for shorter shorts that give ultimate comfort, and that's what we saw on the runway. Notable fashion houses made high hemline shorts as men fashion trends spring summer.
LaQuan Smith paired short denim shorts with sheer polo tees and beaded blazers.
AKNVAS showcased numerous high-cut shorts in vivid textures and tones.
LUAR, on the other hand, featured plaid and fur-lined sweat shorts that barely reached the thigh.
You can get playful with this men's fashion trend for spring/summer. Pair a favorite linen vest or tee for a perfect summer look! In fact, you can combine different textures for fun styling.
4. Dailywear, but make it 'Preppy'
Brands taught us to look cool and fashionable even while wearing casuals. Simple everyday wear, when styled the right way, looks effortlessly fashionable.
Dsquared2 and JW Anderson celebrated this spirit through their rugby shirts, cricket polos, and sporty looks. Therefore, it's safe to say that the sporty aesthetic is here to SLAY again this year.
Additionally, Louis Vuitton's collection displayed pixelated camouflage, its signature Damier prints on various pieces like bags, suits, hats, shoes, and even on the model's nails.
So, style smartly, follow some design basics, and make normal wear preppy intelligently.
5. Red is the new black!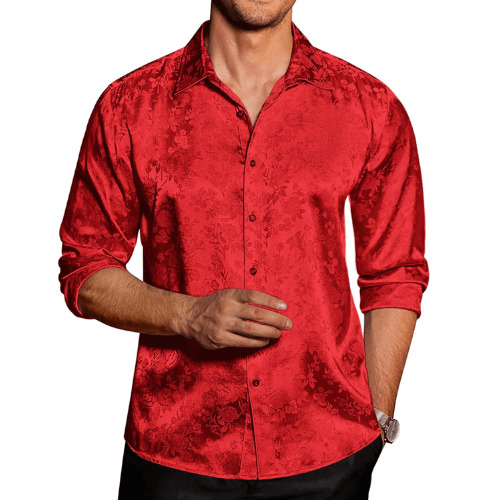 Amongst the men fashion trends summer fashion week 2024, Red dominated the runway in all its glory.
WGSN creations used the hue to symbolize and foster affection and care.
Texworld presented an immaculate idea of letting the pencil wander to ultimately form a design. – Deep red was used to encapsulate this concept.
As we all know, red is a very potent color. It garners attention and stimulates the spectator. Therefore, wearing a fine-tuned red satin shirt or attire creates prompt engagement. You can either go all out or wear one piece of red clothing to strike the balance.
6. Loud & Bold
Behold! Loud fashion is back, people, and it might be here for a while. Even the industry seeks bold statements as a breather from quite-luxury styling.
Willy Chavarria proudly staged huge roses on oversized suits while also pairing shiny metallic pants with graphic T-shirts.
COS played with flashy textiles and muted overlays.
Henri Matisse inspired Teddy Vonranson to curate abstract artwork on their attires.
Owing to this trend, Fforme's metallic jackets and shorts stole the entire show!
Not to forget the usuals – (brands such as Collina Strada & Wiederhoeft), who only play in fun fashion, did some creative coloring too.
7. Formalwear: Regal Edition
Despite a funky spread, royalty still continued to reign on the runway. Many designers made formal attires with a monarchial touch.
Tanner Fletcher presented attires heavily inspired by the regal galore. The fashion house presented a white vest with 3D lilac blooms, details of shiny lapels, big bows of satin and mesh, golden buttons, etc.
Palomo Spain pushed this notion even further. The fashion house turned corsets into shirts and topped the look with feathered headpieces. They also had cropped blazers overcoating fine lace shirts. Other bangers from their collection were floral-embossed jackets paired with matching skirts.
Collina Strada also featured suits decked up with lace detailing and a fluffy train following behind.
8. A world of 'Kilts & Minis'
One of the controversial yet favorite men's fashion trends is wearing skirts. Be it suit skirts, mini skirts, or kilts. In fact, kilts hold a symbol of the clan's honor and have been worn proudly to display that for years now. Luckily, fashion shows this year featured a lot of skirts on their male models, making them one of the top men's fashion trends of spring/summer.
9. An 'Artistic' Aesthetic
Abstract art has always been a strong inspiration for many fashion houses, and this year was no different. Designers used art in their pieces with bold colors, silk fabrics, and refined tailoring. We saw knitted cardigans that had florals on top, slouchy pants tailored in formal outlines, etc.
So, simply find yourself a printed shirt with abstract art print and make this look your own. You can pair it with wide-leg pants and chunky boots to finish the look.
10. Sassy Street Style
Fashion shows are not just meant to show the chic. Stylish street style looks dominated the runway very obviously this year. Unique combinations, vibrant colors, and stand-out patterns stunned the audience.
It is such a fun, comfy, and easy vibe to carry. Stylish comfort is how we would like to define it. So, if you want to smash this look, get yourself a cool patchwork hoodie, baggy denim pants, a beanie, and some simple chunky accessories.
11. Oversized Everything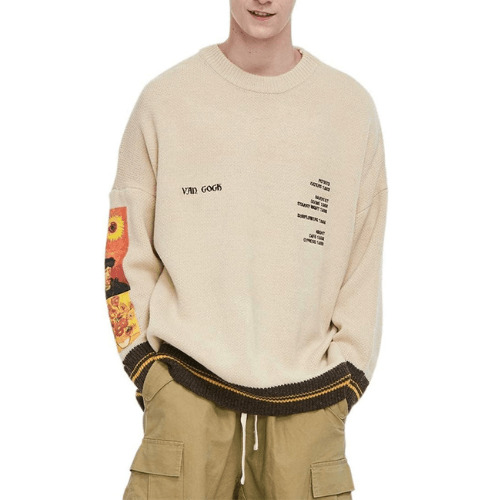 Oversized clothing continues to stay as one of the men's fashion trends in spring/summer. Many designers had something oversized in their collections. Maybe it's the comfort; maybe it's the relaxed silhouette, or simply just a trend; who cares? But we are here for it!
12. A Cultured Runway
Fashion houses and brands redefined their staples with a cultural touch. Motifs, traditional abstract artwork, and prints stood strong on the runway. Not only that, we witnessed fabrics that suited the overall aesthetics and fine tailoring jobs. Priya Ahluwalia was inspired by Baya Mahieddine, Madhubala, and Marsha P. Johnson.
She displayed illusion knitwear, jacquard techniques, soft silk viscose dresses, cowl neck gowns, blue zebra patterns, and eco-friendly fabric play. Draw inspiration from Priya and add a touch of culture to your outfits from hereon.
13. Pop of Polkas
Polkas are always fun to dress up with. Plus they are easy to carry too. So, for people who shy away from being super stylish, polkas are a great thing to wear and look amazing. These patterns are easy to scout and wear just the way you like them.
14. Camp-y Couture
The next men's fashion trend of spring/summer is – dressing campy. Buffed jackets, flipped cropped hoodies, futuristic uniforms, large backpacks, face masks, all these things were shown on the runway. Natasha Zinko prominently displayed this style with a meaningful message.
This style might be a bit too much for everyday wear, but you can definitely find days to dress up campy.
15. Asymmetrical Tops
Asymmetrical hoodies, tops, shirts, and even pants ruled the ramp and became one of the coolest men's fashion trends of spring/summer. It was a crazy visual sight to watch models walk down in military-inspired uniforms with unique symmetrical outlines.
This surely would be a style you would want to try.
Conclusion
Undoubtedly, it is safe to say that the current Gen Z and millennials are more open to adapting fresh fashion, colors, and gender-neutral pieces. This re-envisioned fashion wave is one of a kind. People are using fashion to express new attitudes towards gender inclusivity.
Men can flaunt pinks, floral motifs, and skirts too! After all, what is fashion if not a means to experiment and get creative with yourself?
Having said that, designers play an important role in translating such mentality forward through their work. – which we got to see evidently in this year's SS24. They blended traditional sentiments with modern cuts very seamlessly and set men fashion trends spring fashion week.
This article will surely help you draw fashion inspiration from the runway and make it your own! We have listed many such blogs to seek your dose of fashion from, so keep checking this space for more such trendy content.
Explore Further
25+ Best Gifts for Men to Buy
7 Fashionable Ways to Update Your Fall Wardrobe