Ever walked down the street only to have someone stop you from getting a second look at something you are rocking? Well, that is how it goes when you have a perfectly crafted sleeve tattoo. Whether you are a man or woman, sleeve tattoos are becoming ever more popular, and society is more accepting of these tattoos as well.

Are tattoos for women's sleeves sexy? While the science surrounding women and tattoos varies from person to person, most of it is opinionated in any way. However, being a bit of a rebel and going against the grain is admirable and highly attractive, and with numerous sleeve or half sleeve tattoos for women available, it is easy to find your perfect tattoo sleeves.

If you have ever wondered if you should get a sleeve tattoo or if you are a bit out of ideas when it comes to picking the right one, I have you covered. Ever since exploring tattoos, I have grown to like creative minds and designs. The following ideas would be perfect for any woman to remain feminine if you desire whilst getting a solid badass tattoo.
Full Sleeve Vs Half Sleeve Tattoos For Women
One of the first choices you will need to make is whether you want a full or half-sleeve tattoo. With so many different options to choose from, half sleeve tattoos for women are also some of the top options.
The half-sleeve tattoo tends to be more affordable and would only cover a certain portion of your arm. In addition, they are much faster to do and would be easier to design. The half sleeve also offers versatility, allowing you to create a full sleeve at a more appropriate time.
On the other hand, the full sleeve is one of the more expensive arm tattoos for women and would take a fair bit of time and planning. Unfortunately, doing these tattoos in a single sitting is almost impossible. You should save up and do it piece by piece to ensure you get the best overall design. Errors might occur when they are rushed.
Top Tattoo Sleeves For Women To Consider In this year
Whilst we all may not have the same taste, I have diversified the tattoo ideas as much as possible. So regardless of your style or professional ambitions, one of these tattoos would certainly stand out and offer you the best value for your money whilst turning a few heads when you are walking on the street.
1. Skull Sleeve
When it comes to tattoo ideas, the skull sleeve is one of the best options to consider, and it often looks a little badass. Not only does it look intimidating, but the skull sleeve tattoo is one of the most popular tattoos anyone can choose. It is often combined with various symbols.
2. Tribal Sleeve
The tribal sleeve is arguably grown in popularity in the last few years. One of the most notable versions is that of Dwayne "The Rock" Johnson. However, whilst anyone can get a tribal sleeve tattoo, it is often reserved for those witha Polynesian heritage they want to acknowledge.
3. Religious Sleeves
Whilst Christianity is the most common religion used for many tattoos, there are numerous religious sleeve tattoos that you can choose from. These tattoos often symbolize your religious beliefs and can be done in various forms.
4. Wildlife Sleeves
If you have a favorite animal or pet, creating a sleeve from that could look great. Many people choose to put their favorite animal or spirit animal on their sleeves, which would give them a great look and have a spiritual meaning.
5. Occult Sleeves
The occult is one of the most fascinating things, and there are various branches of this in modern culture. Things like Celtic Tattoos or any other form like the Freemasons can often lead to cool tattoos with a solid meaning.
6. Dragon Sleeve
What is it about dragons that women love so much? These mythical creatures often make the best sleeve tattoos, and they often look good on virtually anyone. If you are left without ideas, thinking of a dragon can be a good starting point.
7. Viking Sleeves
Whilst mainly a male thing, the series Viking and Game of Thrones have peaked people's curiosity in the Viking culture. Viking sleeve tattoos are a great way of adding something with meaning to your arms, especially if you have Nordic heritage.
8. Quote Sleeves
Do you have a quote that you read which has changed your life? If you do, you should consider using it as the basis for your sleeve. The quote can feature prominently, with one of the other designs sprouting out around it.
9. Clock Sleeve
Time is the one thing you can never get back, but does it exist, or is it a figment of imagination? The clock sleeve can be done in a variety of ways, often indicating important times of your life or to live life to the fullest.
10. Wolf Sleeve
Whilst I already referred to animals, the wolf is one of the most majestic creatures and often has plenty of meaning to many people. In addition, the wolf is one of the most loyal animals, and having a sleeve is a great way to show some of your characters.
11. Angel Sleeve
Much like the previous one, many people simply don't want a normal religious tattoo. An angel is one of the best ways to enhance your sleeve tattoo with something even deeper. It is a great tattoo for those that want to show off their religion.
12. Personalized Drawing Sleeve
If you are somewhat creative and enjoy drawing, personalized drawing is a design you could make at home. Maybe you have some drawings of sentimental value. By creating a tattoo, you are sure never to lose it.
13. Music Sleeve
We all have a few songs we love. Music makes the world go round, and if you have a favorite line or song, you can tattoo this on your sleeve. Add a few musical notes, and you have something meaningful always to remember.
14. Robin Hood Tattoo
The Robin Hood Tattoo can come in various forms. For example, you might use a bow and arrow or a basic arrow. Being such a saint in modern folklore, Robin Hood symbolizes justice among many people and some of their beliefs.
15. Family Tree Sleeve
Whilst some people have bad relationships with family, others have a good standing with them. One of the best sleeve tattoos you can choose is the family sleeve tattoo. This tattoo symbolizes your heritage, and you can display all the names from your family tree.
16. Family Emblem
Back in the early parts of the middle ages, family emblems or shields became popular to show who you are and where you come from. Nowadays, they have died out, but a solid family emblem can be a way of remembering where you come from.
17. Military Sleeve
Did you serve in the military, and do you have a particular battalion that you love? If you have served in the military and are proud of your accomplishments, a military tattoo can be one of the best to consider when you want a sleeve.
18. Heart Sleeve
The more traditional heart sleeve is one of the most common tattoos you would often find. Love is always in the air, and a heart tattoo can be a great way to show that you are a lovable person. There are hundreds of variations of the heart tattoo you can choose.
19. Jungle Sleeve
Many people love the jungle, and we all know that the lion is the king of the jungle. So, if you want something that would stand out, a tattoo of the jungle or the king of the jungle would be a great addition to your arm.
20. Sports Team Sleeve
Some people are heavily invested in their favorite sports teams, and the tattoo of your favorite sports team is something you might want to show off to the world. For example, if your favorite team has won the Super Bowl or World Series, you can set up one of these tattoos to show your loyalty and support for the team.
21. Family Sleeve
If you are fortunate enough to have a loving family with parents and children, you might want to show your love for them. One of the best ways you can go about doing so is the family sleeve tattoo. With this sleeve, you can set up the names and birthdays of your family.
22. Abstract Art Sleeve 2
Why not go beyond the normal and choose something unique and fascinating? A tattoo featuring abstract art is a great way to do so. You can get a design to design something completely unique for your tattoo.
23. Hobbyist Sleeve
We all have a favorite hobby. Whether this is diving or hunting, or whichever thing you like to do in your past time. Depending on how passionate you are about your hobby, you might be in a position to set it up as a sleeve tattoo.
24. Beliefs Sleeve
The world is full of new and abstract beliefs, and each belief is accepted as part of a specific culture. So, depending on your culture and the strength of your belief, you might want to set up a sleeve tattoo that shows this belief.
25. Cultural Sleeve
One of the best tattoos you could ever have is the cultural tattoo. You might want to show off your culture if you are natively from Africa or any other part of the world. Creating a sleeve tattoo to portray this could be one of the best ways to bring your culture into the world.
26. Holy Cross Sleeve
The most common tattoo you would find in the world is often that of the Cross. These tattoos come in a variety of forms and styles, but it does make for a great sleeve. Combine this with your favorite bible verse, and you have something to work with.
27. Oceanic Sleeve
The Oceanic sleeve is something that many people would love. These tattoos often have a calmness to them. If you love a specific location or area, the Oceanic tattoo would be one of the best options to consider, especially if you don't get to visit it often.
28. Universe Sleeve
Since a sleeve tattoo would take up a large part of your arm, the universe sleeve tattoo is one of the best options. You can choose your favorite stars and favorite constellation to display the stars and heavens.
29. Astrology Sleeve
During the Covid times, panic set in around the world, which caused the world of astrology to boom. You can display this on your sleeve, no matter your star sign. It is a great way to show off your astrology sign if you are a believer.
30. Custom Personal Design Sleeve
If you want to take the time to create your own tattoo, you can have your own custom sleeve tattoo. The custom sleeve tattoo is one of the best for the creative among us. Many choose the flower sleeve tattoo for women when creating a custom design.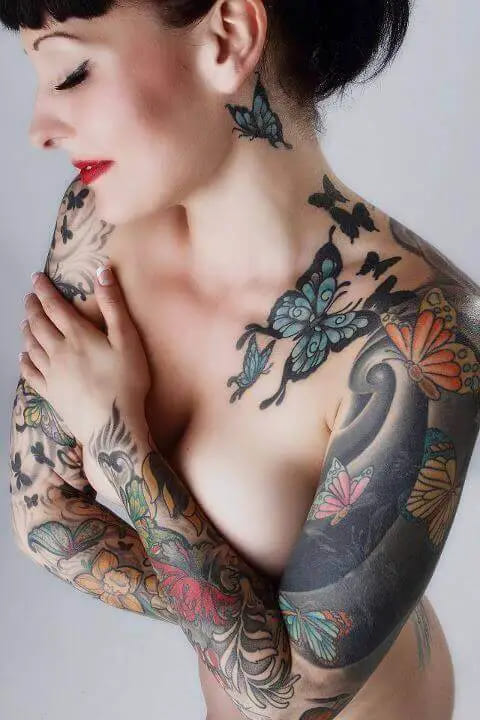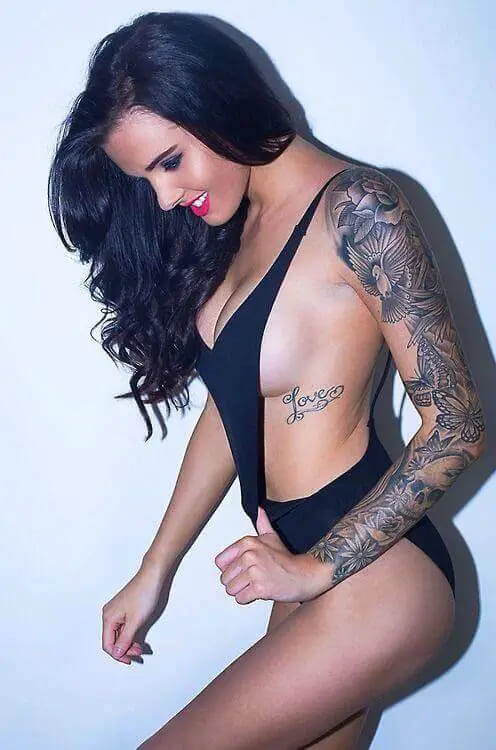 Conclusion
With society becoming more and more accepting of tattoo sleeves, the perfect opportunity for your next sleeve tattoo is now. These are only a few of the top design options and some of the most popular as well. So before getting your first sleeve tattoo, be sure to let me know in the comment section. We will also add more designs if you have good suggestions.
More from The Dezayno