Are you blessed with natural long curly hair? If yes, you should definitely try the newest hair trend of the year: Pop smoke braids!

Pop Smoke Braids are one of the best protective styles for your natural hair. People have been going crazy about it, which is why its popularity is rising daily. From many male rappers to pop star queen Beyonce, many male and female celebrities and stars have rocked this hairstyle.

So, what's so special about this hairstyle? Where does it come from? Why it's so popular?

There might be questions like this coming to your mind. No worries, keep reading to get all the answers!

This hairstyle was actually inspired by the popular late rapper Pop Smoke. From there, this hairstyle got the name 'Pop smoke Braid.' Both men and women can try this hairstyle as it offers a distinctive look that goes with many outfits and occasions.

Pop Smoke Braid is a versatile hairstyle that suits different hair textures, lengths, and types. Not only this, but you can also get creative and experiment with partings like zig-zag pop smoke braids, colors, and accessories like extensions, beads, and cuffs.

Are you looking for some cool and cute pop smoke braid ideas? If yes, you've got on the right page!

Today in this blog, we've gathered some of the best and latest pop smoke braid hair ideas for you. This is the sign from the universe telling you to get creative and rock this hairstyle. From toddlers to kids, teenagers to adults, men to women, anyone and everyone can try this hair idea and make a powerful statement.

So, let's get started with the list.
45+ Hottest Pop Smoke Braid Hairstyles in this year
Don't think pop smoke braids are just for black people. This hairstyle is for everyone! Anyone can try this hairstyle, from kids to teens, young boys and girls to men and women!
Below is the list of top pop smoke braids for both men and women. Let's take a look at them.
1. Classic Pop Smoke Braids
This is the classic option of pop smoke braids. These braids look incredibly detailed and bold. Get this hairstyle for one time and forget worrying about your hair for several weeks.
2. Small Pop Smoke Braids
People with thin hair know the struggle of hair styling. No worries, this braid hairstyle works perfectly with thin hairs. The brads will be smaller but still be impactful. You can get a curved pattern to make a fuller effect with this pop smoke braids short hairstyle.
3. Long Pop Smoke Braids
Long hair? Great! Pop smoke braids go with almost every hair length. Whether you're male or female with long hair, you can get these extra long pop smoke braids to look attractive and classy.
4. Pop Smoke braids with Beads
To add more fun to this hairstyle, add some beads! Select the colorful beads which go with your personality and style. Add them at the end of each braid. Don't forget to secure them with some elastic bands. And your pop smoke braids with beads are ready!
5. Pop Smoke Braids for Girls
Looking for some cute hair ideas for your little girl? We've got you! Pop smoke braids look adorable on kids. Look at this hairstyle, doesn't it look cute and easy? This won't take too long to make the braids, and you can add beads and glitter for a glam touch.
6. Pop Smoke Braids with Extensions
Don't think this hairstyle won't work with short hair! You can wear this hair idea with extensions and look absolutely amazing. You can try different extensions to get new looks and some extra length.
7. Ombre Pop Smoke Braids
The braids' natural weaving pattern will help blend the different colors. From color combinations like green-blue to blonde-brunette, many ombre effects work seamlessly with the pop smoke braid hairstyle.
8. Jumbo Pop Smoke Braids
Do you want to make your hair stand out in the crowd? If yes, you should get the jumbo braids!
This braiding style is considered traditional, but you can try this with a simple twist. You can add more braids while braiding down to get the more thick and full braid look.
9. Pop Smoke Braids with Weave
Do you know why pop smoke braids are so popular these days? That's because they are expressive, and people can easily create them to get extra length and texture. One of the variants of this braiding style is weaves! So get creative and try a classic braid style with weaves this time.
10. Triangle Braids
Have you ever tried on triangle braids? If not, try this time!
These braiding styles look fun and creative to create. First, you need to divide your braid parts into three sections and then braid them again. They look a bit similar to box braids. This hairstyle is perfect for people who are struggling with hair breakage, moisture, and hair fall.
11. Kids Pop Smoke Braids
Look at the above pictures and tell us, don't they look gorgeous! There is something special about this unique left pattern on the top. The beads and hair cuffs make this hairstyle perfect for kids.
12. Side Part Style Pop Smoke Braids
If middle parting isn't your style, go with the side part! Yes, you can rock these pop smoke braids with side part style and still look eye-catching and captivating.
13. Chunky Pop Smoke Braids on Teenagers
One of the challenging tasks as a teen parent is to find new hairstyles for your kids for school! You can try these types of chunky pop smoke braids, which your daughter can wear to different school functions and parties.
14. Stitch Braids Pop Smoke Braids
Stitch braids are well known for their unique looks that make them instantly recognizable. If you're looking for some unusual and eye-catching braiding patterns and style, you should opt for this stitch braids version of pop smoke braids front and back design.
15. Fade Haircut with Pop Smoke Braids
This is another great example of incorporating pop smoke braids with other haircuts. Here fade cuts are styled with pop smoke braids, and it looks absolutely stunning! Both men and women can try this style to get a cool and edgy look.
16. 3 Layer Pop Smoke Braids
Do you think that braids make your face look flat? No worries, this time, instead of the regular braid style, try three layers of pop smoke braids! This hairstyle will give your hair some dimension and make your face look pretty.
17. Short Jumbo Pop Smoke Braids
Jumbo pop smoke braids are in trend! Get this shorter version of jumbo braids, which are decorated with gold treads and extensions. They look heavenly beautiful and immediately make you stand out among the crowd!
18. Art Pop Smoke Hair
Want to match your boring hair to your creative personality? Get this art pop smoke hair idea! For this, you have to take your black braids and create something unique with various patterns and hairstyles. Take inspiration from the above images.
19. Pop Smoke Braids for Boys
You'll be surprised to know that the pop smoke braid hairstyle was inspired by a man who is a famous musician! So, people who think that only women wear this hairstyle are absolutely wrong! These days many men and boys are experimenting with this hairstyle to express their personality and make a powerful statement.
20. Beads with Medium Pop Smoke Braids
When going to your hair appointment, ask your stylist to add some beads to the medium braid style. This looks subtle yet makes a bold statement.
21. Tribal Feed-In Cornrows
If you want to show off your best facial features, you should definitely try tribal braids. These braids are a bit hard to create but catch attention from every side.
22. Colored Pop Smoke Braids
Why go plain and boring when you can have colors? Yes, add fun colors to your pop smoke braids and create a signature look. Many rappers and singers have this kind of hairstyle which makes them unique.
23. Pop Smoke Braids with Dreads
The most common and famous hip-hop hairstyles are dreads and braids! No wonder people prefer to try both dreads and braids together to get a fashionable trendy look.
24. Pop Smoke braids with Curls
Curls are love!
No matter what hairstyle you're going for, curls always improve things! So next time you're going for pop smoke braids, add some curls and see how magical they look.
25. Light Brown Pop Smoke Braids
Another chic, simple but attractive pop smoke braid sare these light brown ones! You can rock this hairstyle with many outfits on various occasions, and it looks amazing on so many skin tones!
26. Long Cornrow Pop Smoke Braid Hairstyle
Whether going to a red carpet event or having dinner with family and friends, you'll never go unnoticed with this hairstyle. The elaborate pattern on the top and unique braids are the most wonderful part of the long cornrow pop smoke braid hairstyle.
27. Passion Twists Pop Smoke Hairstyle
This hairstyle was first created by The Boho Babe from the US. Look at the pictures carefully, and you'll notice that this is not the regular twist. Here the curly hair is used to form a less-uniform twist to achieve a bohemian look.
28. Parted Pop Smoke Hair
Don't have enough time to get the complete braided hairstyle? No worries, numerous varieties of pop smoke braided hairstyles don't require much braiding. These styles you can do in minutes or under an hour!
29. Two-Steps Pop Smoke Braids For Teenagers
Here's another great braid hairstyle for your teenage daughter and son. Create this two-step pop smoke hair look to prevent the flatness on the top.
30. Feed In Pop Smoke Braids
Do you know about Ghana braids? This braid style is the so-called sister of Ghana braids! Here the stylist will add extensions underneath the cornrow. This makes the extensions completely secure to the real hairs.
31. Fishbone Braids
Don't confuse the fishbone braid with the fishtail braid! Both are different! This one is a protective style that is created extremely close to the scalp. This hairstyle can be styled by women of all ages, including young girls.
32. Micro Pop Smoke Braids
These varieties of pop smoke braids are small and delicate and look so cute. You can do this hairstyle to your kids as they don't weigh the scalp down.
33. Lemonade Braids
Everyone is aware of Beyonce's iconic Lemonade album. And this hairstyle is inspired by her; that's why people are crazy about this. Here the small feed-in braids are cornrowed to the side.
34. Ghana Braids
The definition of Ghana Braids actually refers to various braiding patterns. First, start with micro braids; as the braiding goes down, add more hair to make it broader and fuller.
35. Multi Layered Pop Smoke Braids
These multilayered pop smoke braids will surely get you tons of compliments. These braids look stylish and fashionable and go with almost every outfit.
36. Gold Pop Smoke Braids
Get a glamorous and fashionista look with these gold pop smoke braided hairstyles! Add a few gold-colored braids in the front to achieve this hot and sexy gold goddess look.
37. Updo Braids In A Bun
You can go with updo braids for a sophisticated look for office parties or formal events. They're super easy to style and perfect hairstyles for summer.
38. Black & Blonde Pop Smoke Braids
If you're afraid that multi-color braids will not look on you, here's the perfect solution for you. Instead of trying various colors, go with two colors: black and blonde. They're the safest color options and look great on every skin tone.
39. Add Rings in Tribal Pop Smoke Braids
Elevate the simple tribal braid look with some hair rings. You can also use other accessories like cuffs and beads to spice up any regular pop smoke braid hairstyle.
40. Pop Smoke Braids With Curls
Looking for a voluminous option in pop smoke braids? Here is an idea to add some curls at the end of each braid to get some volume and dimension. You can either curl your real hair or use extensions.
41. Dutch Pop Smoke Braid
The braids where your hair stands out instead of lying flat on the top of your head are called dutch braids. You have seen many celebrities and Instagram influencers wearing this hairstyle. The classic three-strand technique is used to create this, so it is easy to make.
42. Butterfly Pop Smoke Braid
The gorgeous, eye-catching, and beautiful braid style is the butterfly braid. This fluffy braid style looks natural and not over the top. You can use hair extensions, whichever you prefer to sew the braid in place as it gets pretty thick.
43. S-Pattern Pop Smoke Braids
This is another head-turning braid style! It is known as the S pattern pop smoke braid. It's cute and unique and goes with various outfits.
44. Creative Girl's Pop Smoke Braids
The best thing about braids is that you can modify and change the hairstyle according to your personality and preferences. From adding extensions to using beads and other hair accessories, there are many ways to make your look unique and reflect your emotions through the right hairstyle.
45. Knotless Pop Smoke Braids
Do you feel that some hairstyles stop your hair growth? This might be the case when moisture is trapped inside your hair! To prevent this, you can try knotless pop smoke braids. This style will result in a seamless, break-resistant look.
46. Braided Bun Hairstyle
Don't know which braided hairstyle to choose? When in confusion, go with a braided bun! This looks great on every face shape, and you can literally do this in a few minutes.
47. Purple LowLights Pop Smoke Braids
Another way of getting a voluminous look is to get lowlights! Go with something bright color like purple to create a gradient effect. These purple low-light pop smoke braids look great on women of all ages and are appropriate for many functions and events.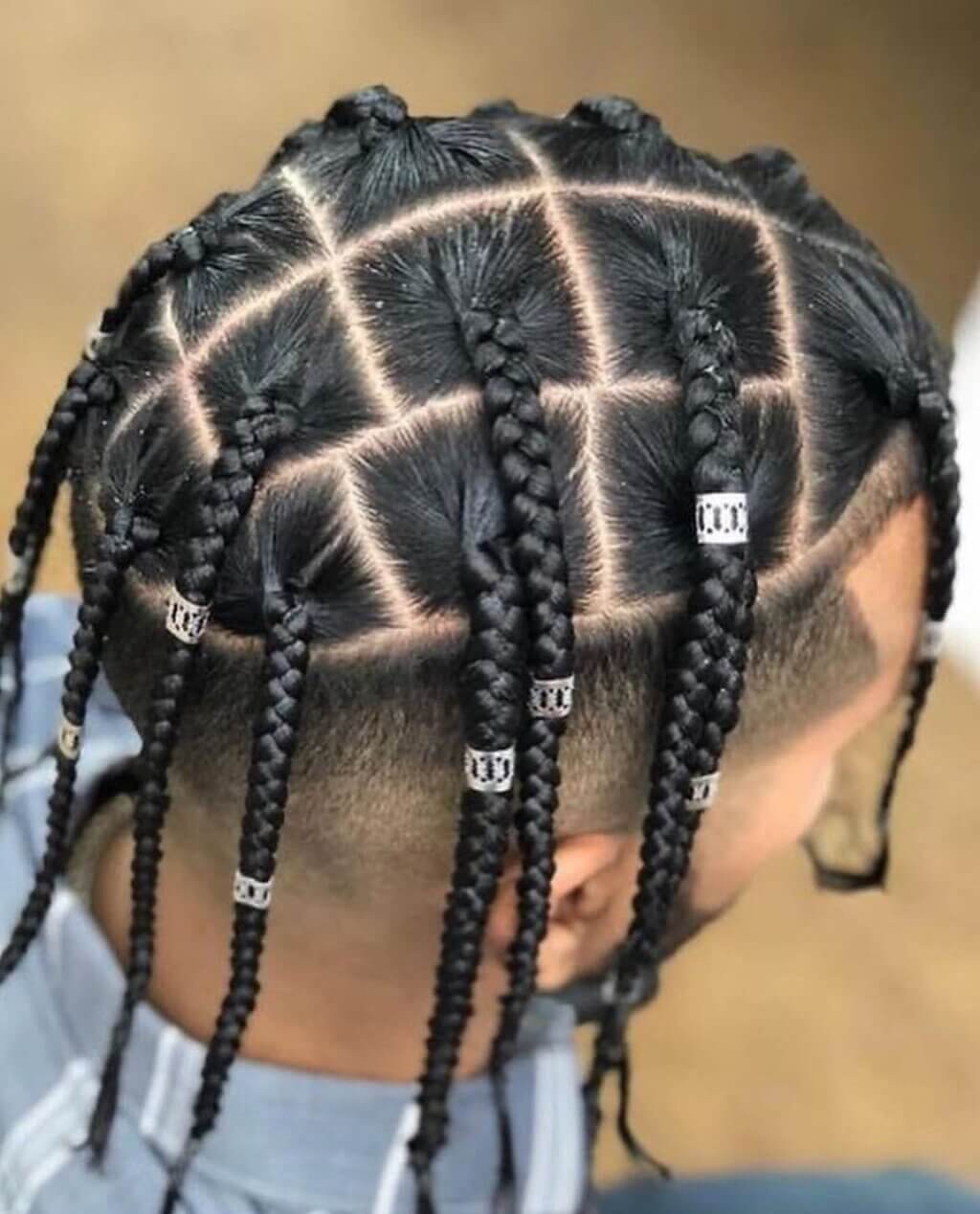 Final Words
So, this is all about the pop smoke braids.
Today pop smoke braids are a trendy and popular hairstyle among men and women of all ages. From triangle patterns to braided buns, multilayered pop smoke to colored pop smoke braids, there are so many options to choose from. There are many great things about this hairstyle, from various partings and patterns, including multiple variations and designs. Not only does this style look great on your hair, but also one of the protective hairstyles. Pop smoke braid is an evergreen hairstyle that can be rocked by both men and women, kids and teenagers in any season or occasion.
If you honor the rapper Pop smoke and love his songs, you can also pay tribute to him through pop smoke braid styles.
I hope this guide on pop smoke braids, men's and women's styles has given you some inspiration for your next hairstyle. If you find this blog informative and helpful, share it with your friends and family members and get them on to the hottest hair trend of the year!
Discover more: