Today, if you ask any hairstylist what is the most popular haircut right now, their answer will surely be medium length haircuts! Why? The reason is simple: medium-length hairstyles are versatile and can be styled in many different ways. Also, from styling to taking care of, the mid-length haircuts are easy to maintain as compared to longer hairstyles. Today, in this blog, We've listed some of the best low maintenance medium length haircuts for women. No matter whether you have curly or straight hair, thick or thin hair, or round or oval face shape, you'll find the perfect hairstyle in the list below.
Let's dive in.
1. For Thick Hair
Having thick hair is a blessing; you should take this as an opportunity to get a stunning makeover. These hair types might take more effort to style and maintain, but they look extremely flattering if done correctly. Here is one thing you should consider while going for a medium-length hairstyle for thick hair: add layers and bangs to get some movement in the hair. For a smooth look, you can try a textured lob with baby bangs or a shoulder-length blunt-cut lob. Also, you can ask your hairstylist to leave the ends blunt, giving your hair a beautiful texture!
2. For Thin Hair
Girls with thin and fine hair know the struggle of achieving volume, right? It can be easily tackled with the right haircut and hairstyle. There are specific fine hair low maintenance medium length haircuts such as shag and lob, which can make your hair appear full and dimensional.
Hairstylists use special techniques which create the illusion of voluminous and textured hair. You can try golden blonde balayage, layered mid-length cut, or shaggy waves with curtain bangs. Try these amazing low maintenance medium length hairstyles and feel the huge change in your overall appearance!
3. For Thin Wavy Hair
Are you looking for low maintenance medium length haircuts for wavy hair?
Wavy hair has a unique texture, which allows women to choose any hairstyle as everything works perfectly. From a hairstyle that sits an inch or two below the chin to a slightly long bob, you can pick any haircut without thinking much. If you're a bit conscious about short hair length, go with hair lengths just above the shoulders. You can also easily style by using a texturizing spray to lock the hair in its place.
4. For Thick Wavy Hair
If you have thick, wavy hair, you can go with a wavy lob, mid-length bob, and layered hairstyle. These haircuts will offer a medium length look with minimal maintenance.
Thick wavy hair often has frizz issues; this is why wavy medium haircuts are perfect for this hair type, as they help to hide any flyaways or frizz. Add face-framing layers, midi shag, or bangs to add some depth and character to the hairstyle. The best thing about all these haircuts is that they suit most face shapes and hair types!
5. For Hair With Bangs
Do you love bangs? If yes, you're not alone because many women, regardless of their ages, opted for bags. Bangs, specifically curtain bangs, are the highlight of 2023, and they're still going to be in trend.
From dainty tapered bangs to soft curtain fringes, there are several options to choose from, and you can also add bangs with other hairstyles, such as a classic bob cut or a chic shoulder-length haircut. These low maintenance medium length haircuts with bangs are a perfect way to elevate your overall appearance.
6. For Straight Hair
Every hair type has its own problems, and so does straight hair! Many women find it extremely challenging to find a flattering hairstyle for their face. If you want low maintenance medium length haircuts for straight hair, try medium-length bob or lob with fringes. Finding a cut that gives your hair some volume and texture is important. Try a mid-length blunt cut in ombre or jet-black smooth hair for a sleek and sophisticated look.
7. For Black Females
Are you a black woman who likes to experiment with her hair? From trying different cuts to styling techniques, there are many ways to transform your hair's appearance! While braiding and twists are quite common among black females, you can try wigs, extensions, and sew-ins.
As Afro hair is high maintenance and prone to dryness and damage, getting a medium-length hairstyle is recommended as it's easy to maintain and budget-friendly. Braided buns, passion twists, and naturally defined curls are some of the best low maintenance medium length hairstyles for black beauties!
8. For Round Faces
There are many benefits of picking a hairstyle according to your face shape. For example, if you have a round face shape, it's best to pick a haircut that reduces the roundness of your face. You can try medium length haircuts with middle parting and hairstyles with face-framing layers and textured edges. Flat-ironed bobs and wavy shoulder-length hairstyles also work fantastic on round faces. These looks will accentuate your eyes, lips, and cheekbones.
9. For Layered Hair
Get some layers in your medium-length hair to achieve a cute and low maintenance medium length hairstyle!
Layers work like magic for every hair shape and texture! Ask your hairstylist to give you soft layers that complement your natural hair texture and frame your face elegantly. Face-framing lobs or flattering midi shags are one of the popular low maintenance medium length haircuts for women. For more drama, you can color or add highlights to your hair.
10. For Oval Face
If you have an oval face shape, you can get low maintenance medium-length haircuts, as everything looks flattering. Women with oval face shapes should try haircuts with layers and soft edges. This will add dimension and volume to the hair and highlight facial features. A classic lob with face-framing layers, a messy bob, and an A-line bob are some common low maintenance medium length hairstyles that work perfectly for oval shapes.
11. For Women Over 50
When selecting a haircut for a woman over 50, it's important to consider hair type, face shape, and, most importantly, comfort. A long hairstyle could be uncomfortable and demands lots of care, which is quite a task at this age. This is why simple medium length haircuts are a good choice for women over 50. Try a medium-length feathered haircut or a shoulder-length bob with flipped layers this time. Hairstyles with lots of layers will add volume and dimension to hair while giving a young and sophisticated appearance.
12. For Chubby Face
Don't get disappointed by people saying it's hard to find a hairstyle that suits round faces or chubby faces. You'll be happy to know that chubby faces look more feminine and youthful than other face shapes. Also, there are several flattering hairstyles for chubby round faces, such as a short bob, chin-length hairstyle with side parting, and shaggy haircut with feathered bangs. One thing to remember while getting a haircut is not to keep your hair super straight; add some layers or texture. This added volume will make your face look slimmer and beautiful.
13. For Ombre Hair
Ombre is one of the coolest hairstyles that look beautiful on most hair types and lengths. It will immediately give a soft and feminine look regardless of your age. If you're confused about a hair color and can't decide to color your entire hair, try ombre!
The ombre hair technique is one of the safest and most stylish ways to add style and chic to your natural hair. This is one of the most popular low maintenance medium length haircuts, which can be achieved through several techniques. You can also add layers and bangs to take this onto a whole new level of beauty!
14. For Messy Hair Look
Messy hair, don't care!
There is something so irresistible and charming about untamed natural hair that we can't take our eyes off. The best thing is that you don't have to do anything – no styling, no haircut! The simple and carefree look actually makes it even more sexy and attractive. You can put your medium length hair into a bun, updo, or ponytail by sticking out a few loose curls.
15. For Colored Hair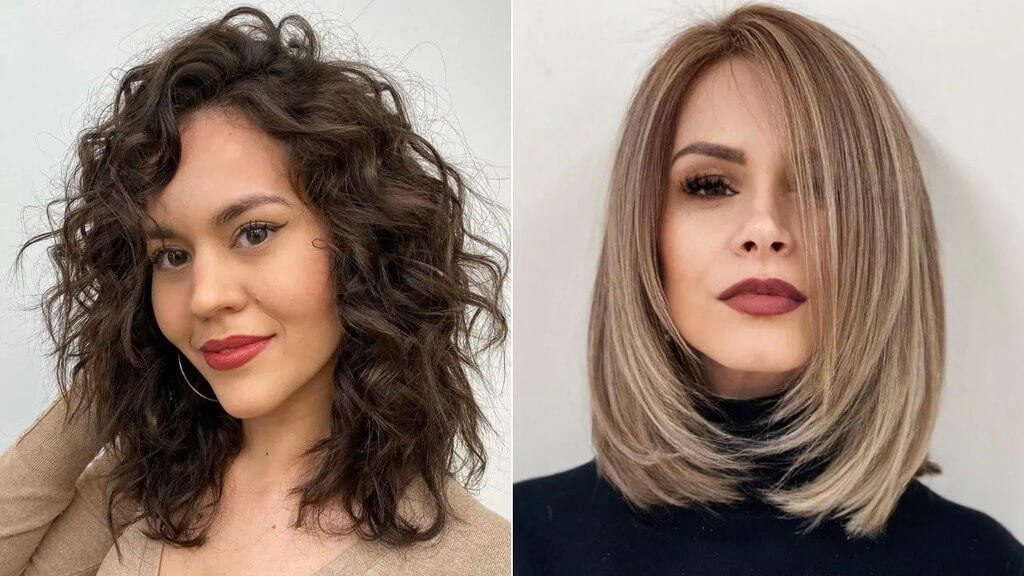 If nothing seems enough for you, try coloring your hair! From classic dark browns and blacks to bright colors like red and purple, you can try different shades to add fun and drama to your hair of any length. There are many options, from a low-maintenance, medium length hairstyle to something that needs extra care and attention. Take inspiration from celebrities or the above images, or try something totally personal and unique.
FAQs
1. What Is the Most Low Maintenance Hair Length?
The most low maintenance hair lengths are short to medium haircuts such as pixies, chin-length bobs, and shoulder-length hairstyles. Compared to long hairstyles, these hair lengths are easy to style, maintain, and care for.
2. Is Layer Cut Suitable for Medium Hair?
Yes, a layer cut is suitable for medium length hair. This cut looks flattering to women of all ages, hair types, and face shapes. Layers are an excellent way to add some volume and dimension to hair.
3. Is Medium Length Hair Easy to Maintain?
Yes, as compared to long hairstyles, medium length haircuts are easy to maintain. You can style medium length hair in various styles, such as fancy updos, messy ponytails, and layered bob hairstyles. This hair length suits most face shapes, ages, and hair types.
Final Words!
So, these are some of the best low maintenance medium length haircuts. If you don't want to spend a ton of time styling and maintaining your hair, this hair length will be perfect. From gorgeous layered hair to a sophisticated bob, there are several low maintenance medium length hairstyles that you can try. Even if you do minimum care, a medium length hairstyle can elevate your overall appearance.
In Case You Missed It