Edgar Cut is ruling the streets nowadays. Boys all over the world gravitate toward this simple yet bold haircut. The style screams attitude and no-nonsense life. It looks great on all face shapes but does magic on oblong and oval face shapes. Edgar's haircut is comparatively easy to maintain and can be done differently.

The cut has Mexican roots; if you want to learn more about it, keep reading.
What Is an Edgar Cut, and Why Is It So Popular?
While the origin of the Edgar haircut is still vague, there are some theories about how it originated and spread worldwide.
A high fade (typically for base) and a finely formed top part of short hair define the crop style known as the Edgar haircut. It incorporates parts of the Caesar cut, French crop, and traditional undercut.
It is also referred to as the Takuache haircut in Mexico, where it appears to have originated. The Spanish word for "possum" is "Takuache," a title for young Mexican males who adore pickup vehicles and always have the Edgar cut.
The Caesar haircut is most similar to Edgar's. An Edgar cut can be called a stylized version of Caesar but with high faded sides. Although the two fringe fashions are nearly identical, Edgar is unquestionably more edgy than Caesar.
While it could be effective for just about everyone, people with a long elongated, or chiseled facial shape will gain the most from it. There are essentially no limitations when we talk about hair length. You can pull off the style even if your hair is concise. Additionally, it is a fantastic way for guys with finer hair to hide their receding hairline.
If you have been looking for a sign to revamp your look, this is one. We have curated the list of 15 Edgar cut hairstyles to choose from. Have a look
30+ Edgar Cut Hairstyles For The New You
Now that you know what Edgar cut is and why is it so famous among men these days, let's look at some of the best Edgar haircuts for men in this year!
1. Classic Edgar Cut
The first style is the original version of the cut. The lower back and sides are trimmed shorter, and the front and middle hair are kept longer. This is a clean and fuss-free look. It is also referred to as Edgar Haircut Mexican by people.
2. Fluffy Edgar
As the name suggests, this is the classic Edgar cut but with a fluffy twist. This world is well for blessed men with thick and full hair. The sides are tapered, and the rest of the hair can be permed for a fluffier look. Fluffy Edgar Haircut is a hit among young boys.
3. Scruffy Edgar
This cut is similar to Fluffy Edgar Haircut in terms of the volume left on the crown of the head. Given the hair's length, the roughness helps by giving it structure and volume. Of course, you do not want your hair to look too unkempt, like the Fluffy Edgar, but a little tousling will suffice.
4. Short Spiky Edgar
Consider adding spiky volume to the top area of the hair with either hair gel or clay to give the cut a bold and Messy Edgar cut appearance. But keep in mind, keep the top and front parts clean. Stay away from styling this portion to preserve the Edgar cut's straight fringe look.
In this cut, not much emphasis is given to the faded areas as the spiky look is the show's star. Balance the top part and sides by opting for an undercut.
5. Edgar Cut Fade
To achieve this cut, keep the emphasis on the back of the head and sides by giving them a more faded look. It requires a fade cut on both sides from the hairdresser rather than a tapered cut. Men and boys involved in sports highly prefer this popular Edgar cut. It is similar to the classic Edgar Haircut Mexican version.
6. Taper Edgar Haircut
This is the easiest Edgar cut to maintain and achieve out of all the hairstyles. Since the back and sides are tapered, and the rest of the hair is kept short, it is suited for men with less hair. Boys who like to keep their hair on the shorter side usually go for Taper Edgar Haircut.
7. Wavy Edgar Cut
This hair brings out your hair's natural texture, i.e., wavy. It gives your face a more appealing look and looks better than the traditional look. The barber will make the top part look longer to provide you with a look of an undercut.
8. Bowl Edgar Cut
This cut is the Mexican take on the ideal bowl cut. As is typical with bowl cuts, the front part of the hairline features a more sharp edge. The remainder of the style is essentially the traditional Edgar, though.
This cut has some wonderful texture on top, similar to the Messy Edgar cut, which also adds a lot of volumes and makes the haircut (literally!) stand out more. The severe bald fade draws attention to the bowl line and makes it fun. This looks best on boys with a full head of hair.
9. Natural Edgar
This look is perfect for boys who prefer a more natural look with just a little fading on the sides. In this look, no major alterations are made to the original look. The sides and back are faded just a little bit to give the face a more chiseled look. The rest of the hair is left untouched.
10. Edgar Cut with Beard
Not all Edgar hairstyles pair well with a beard, but this one does. Many boys and men find it hard to let go of their beards; therefore, it is a challenge to create a haircut that complements their bearded appearance. To achieve this cut, the sides are tapered, keeping the beard's shape in mind. Boys with stubble can go for this look without a doubt.
11. Curly Edgar Haircut
We have great news for all those curly-haired boys sulking in the corner. You can also go for an Edgar cut, even with curly hair. Experienced hairstylists know how to give the Curly Edgar Haircut without ruining the natural texture of the curls. Unlike the other ones, this cut requires a little bit of maintenance.
12. Edgar Cut with Colored Highlights
Whoever said you cannot achieve a great Edgar Cut with colored highlights did not know what he was talking about. A messy, unkempt top with highlights and tapered sides works well together. This cut looks equally good on both straight and curly hair.
13. Edgar Cut for Widow's Peak
Many guys are insecure about their widow's peak, but if you're not scared to show it to the world, you can make the most of your widow's peak with the right Edgar cut. Furthermore, you can include it in your haircut and make it look good.
As a result, it enhances the appearance rather than detracting from it. The front fringe is styled to follow the hairline to achieve this look, giving it a tidy and natural appearance. Of course, how the hair is styled here is quite important.
To cover up the peak and provide the illusion of a bit more volume on the front sides, the hair is arranged forward. The fringe's front is also straightened to offer a layer and add depth to the hair's look.
14. Buzzed Cut Edgar
If you have always kept a buzz cut and now want an Edgar cut similar to that one, this cut is for you. This Edgar cut has taken inspiration from the conventional buzz cut and classic Edgar. You can say it's the love child of both these cult favorites.
Taking the front fringe that isn't cut straight across, it takes the typical Edgar recipe and modifies it somewhat. This hairstyle's fullness is also a result of the lengthier fade.
This haircut features a more progressive fade that does not touch the skin surface rather than a high skin fade. However, you might ask for a significant skin fade if you want greater contrast.
15. Edgar Cut with a Mullet
Here is one of the craziest Edgar cuts from the list. Who said you must sacrifice your mullet to achieve a desirable Edgar hairstyle? This cut is what we call the best of both worlds. You get the Edgar cut while still rocking your mullet. Let's see how it works.
The key to a mullet has hair that is the ideal length in the back, while an Edgar cut includes tapered sides and a front cut. Incorporate them both, and you have the perfect Edgar mullet cut. You can always ask your hairstylist to adjust the lights and fading per your choice.
16. Edgar Haircut with Defined Lines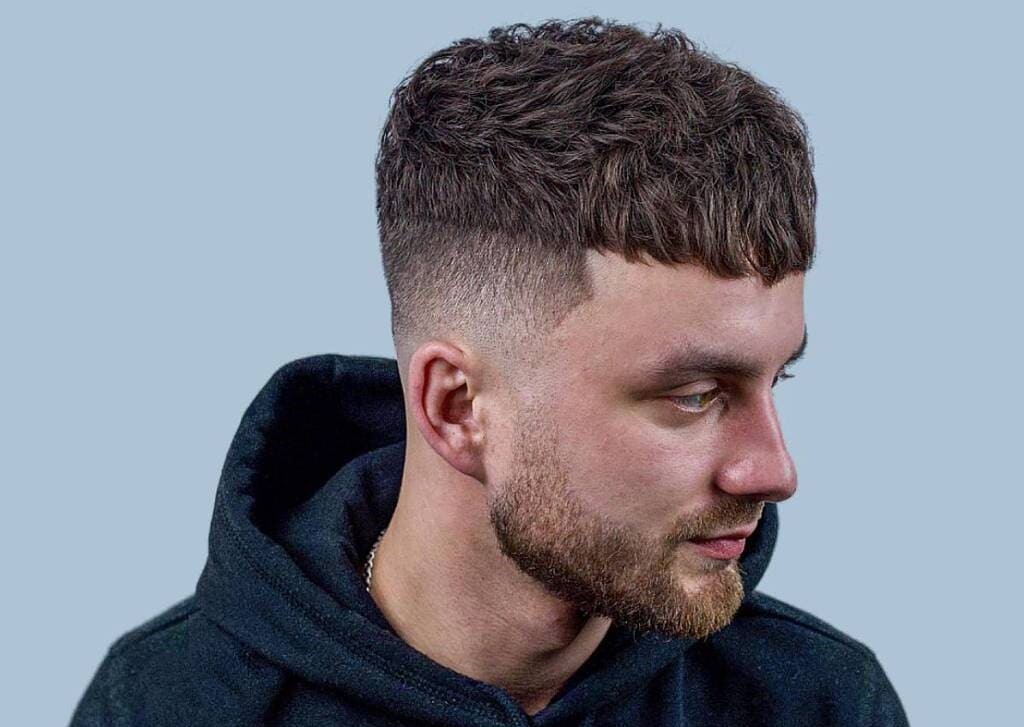 To get this creative Edgar Cut, the hairstylist has played with the hair density. The sides are neatly shaved and look relatively light, whereas the top part has volume. It has layers on the top with defined lines on the sides, giving the model an edgy yet attractive appearance.
17. Edgar Cut with High Skin Fade
Here is another Edgar haircut idea with another famous hairstyle, a high fade cut! The fade goes well with the sharp, defined lines, dark hair color, and voluminous layers. Every detail contributes to creating a fresh hair look that is easy to style.
18. Choppy Edgar Cut
Do you have coarser hair? If yes, this type of Edgar Cut will do wonders for you!
This Edgar haircut usually works around the natural hair texture while giving a flow around the front part. This is why it looks well-groomed and masculine.
19. Edgar Haircut + Takuache Mullet
What's better than one haircut? Two, right!!
This season, elevate your Edgar Cut by incorporating a stylish mullet, resulting in the ultimate Edgar Haircut Takuache Mullet: a fusion of boldness and versatility. So, what does it look like? Here in this cut, the sides are cut extremely short while the back is a bit longer, offering a mullet shape.
20. Edgar Hairstyle with Angular Fringe
Did you get bored with the classic Edgar Cut?
Try this Edgar haircut with a fun twist! Here, this jagged Edgar Cut has an angular fringe, which completely changes the entire vibe of this cut. You can even change the look as per your hair texture and shape.
21. Messy Edgar Cut Taper Style
All the men will agree that messy hairstyles look even better than clean hairstyles! Here, you can see a messy Edgar Cut combined with taper, and this variation can change any man's appearance within a few minutes. So, don't think much, and try this tousled Edgar hair idea!
22. Short Fluffy Edgar Cut
Look at this cute, fluffy Edgar Cut for men. It is perfect for those people who want a volume in their hair rather than the length. To get this haircut, ask your barber to put short layers on the top and trim down the sides for a clean side look. Later, you can style this hairstyle with the help of texturing products.
23. Fringe Edgar Haircut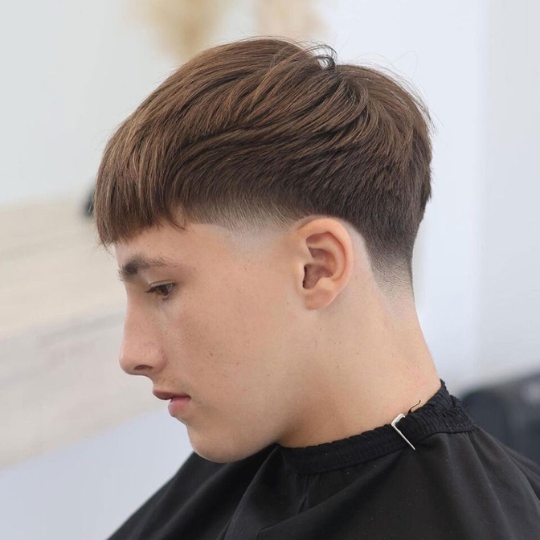 Get the long bangs and make a statement appearance!
This haircut is not for everyone, but if you want a bold haircut, you can definitely try this one.
24. Edgar Cuts For Boys
This time, match your hairstyle with your little one!
And for this, this Edgar Cut will be an ideal choice. It offers a longer, textured top with short, tapered sides. This father-and-son combo idea will give you both an edgy look that you can flaunt.
25. Wavy Edgar Haircut With Low Fade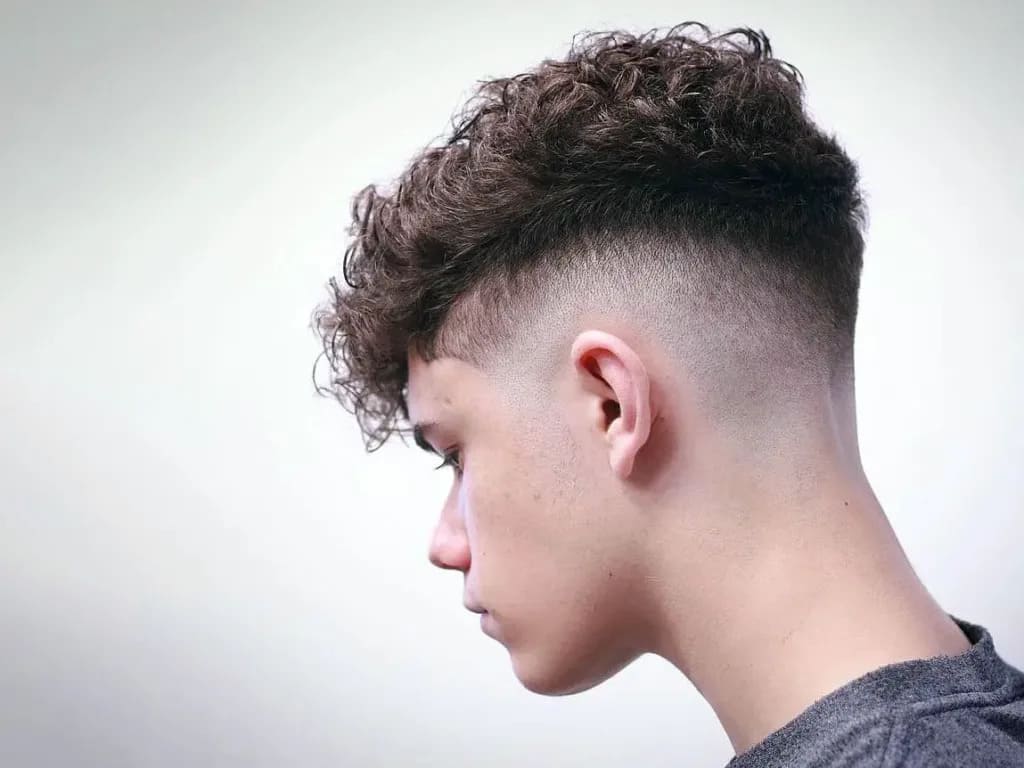 Maintain the length at the top sections of your hair and get a low fade at the sides to get this type of popular wavy Edgar haircut. The difference in the hair lengths at the front and back gives a trendy hairstyle.
26. Highly Textured Edgar Hairstyle
Do you like texture in your hair? No problem, here's the perfect Edgar Cut for you! This cut focuses on the layers in different sections, which gives so much texture. Its styling is also quite easy and quick.
27. Super Short Edger Haircut
This is another variation of the Edgar haircut that you can try! It is known as the super short Edgar Cut, which offers a polished and sleek vibe. The asymmetrical cut and line design at the front are added for a dramatic touch.
28. Edgar Cut Ideas for Teenagers
Edgar is a versatile hairstyle that men with different types of hair length and texture can style. So, if your teenage boy asks for a unique haircut, show him the picture above. This cute and stylish haircut is also easy to style and maintain.
29. Long Edgar Haircut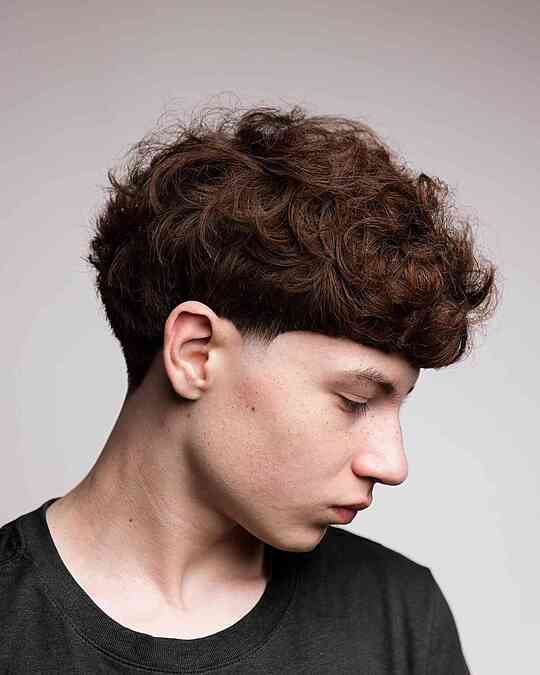 Here is another modern and trendy Edgar Haircut for you: Long Edgar Cut! This one also gained immense popularity, like the classic Edgar and Edgar Cut with Fade. As its name suggests, this one has slightly longer hair length than other Edgar haircuts. It mainly features a textured top with faded sides and back.
30. Two-Toned Edgar Cut
Create a distinct hairstyle by coloring your hair an unusual color, like Gray or silver. Take inspiration from the above picture, where there are spikes at the top and mid fade at the sides and back. However, don't attempt to create this at home; take help from a professional hairstylist.
31. Get It Personalized
The last Edgar Cut idea on the list is a personalized Edgar Cut. You can also create something unique by experimenting with different styles and cuts with Edgar Cut. From the asymmetrical fringe on the top to the extremely high faded cut at the sides and back, you can select anything that matches your style. Trust me, you don't look like the Edgar Cut meme or have an ugly Edger cut! All you need to do is trust your stylist and process.
How to Make the Most of Your Edgar Haircut
Now that you know all the different ways you can style an Edgar cut, it is time to pay attention to the following tips that will help sustain the cut. Here are some tips to get most of the Edgar cut:
Before deciding on any haircut, always sit with your hairstylist and get a consultation. They are experienced and skilled professionals and are aware of the minute details.
Have basic information about your hair texture before going in for a cut. If you have fine hair, look for styles that suit your hair type.
Invest in a haircare routine. Use a sulfate-free shampoo and conditioner at least three times a week. Do not apply hair gels and clays frequently. They can damage your hair quality. Try to avoid using hair dryers a lot. If possible, switch the setting of your dryer to cold air. It's less damaging to your hair.
Do not buy low-quality hair colors and bleach. They not only have questionable lasting power but also contain harmful chemicals. The chemicals can have unpleasant effects on your overall health.
Go for hair trimming at regular intervals. Trimming the hair not only keeps the cut in place but also gets rid of the damaged ends.
Do not use hot water to wash your hair. Hot water damages the hair follicles and can contribute to hair fall.
Refrain from making a drastic change to your hair before a big event. Get the Edgar cut at least a couple of days before the event.
Bring a picture of the particular Edgar cut you want for your hairstylist to see. This will give him/her a better idea of the cut you are looking forward to.
Final Thoughts
These 30+ Edgar haircuts shown here are some of the greatest Edgar hairstyles available. This particular Edgar cut is a great low-maintenance option for guys and has taken the world by storm. Sit with your hairstylist and pick the one that suits your personality and face shape the most.
Follow the hair care tips mentioned above and sport the best you have ever looked. The tips are obvious and straightforward but make a difference to your hair quality.
For more information: