Wondering why you need a pair of space-themed sunglasses in your life? There are lots of reasons. Firstly, they look cosmically cool. Secondly, having spacey shades to hand is really useful for when you receive a last-minute invite to a party or fancy-dress bash – they can be the basis for many easy-to-put-together costumes and looks. Plus, they're perfect for festivals, too.

There are lots of different styles and designs to choose from, so whether you're in the market for some sleek space-themed sunglasses, futuristic alien-like eyewear, or cosmic designer shades, you'll be able to easily find what you fancy. We round up some of the best cosmic sunglasses options below.
1. Cosmically Cool Lenses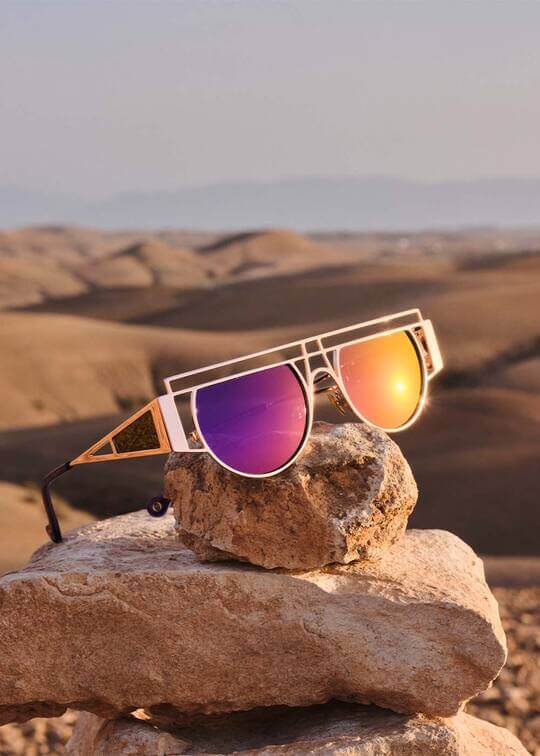 Choose a pair of round-framed or aviator glasses with stunning 'space' lenses for a standout look that's great for parties or festivals. Lenses feature beautiful images of galaxies and nebulae, and some are like miniature works of eyewear art.
Alternatively, consider fun lenses with moon, planet, and star patterns, UFOS, space rockets, or light-up text spelling out, for example, Space Cat or Rocket Man. You could even opt for sunglasses featuring lenses emblazoned with the NASA logo for a truly out-there look!
2. Space Glasses Perfect for a Fancy Dress Costume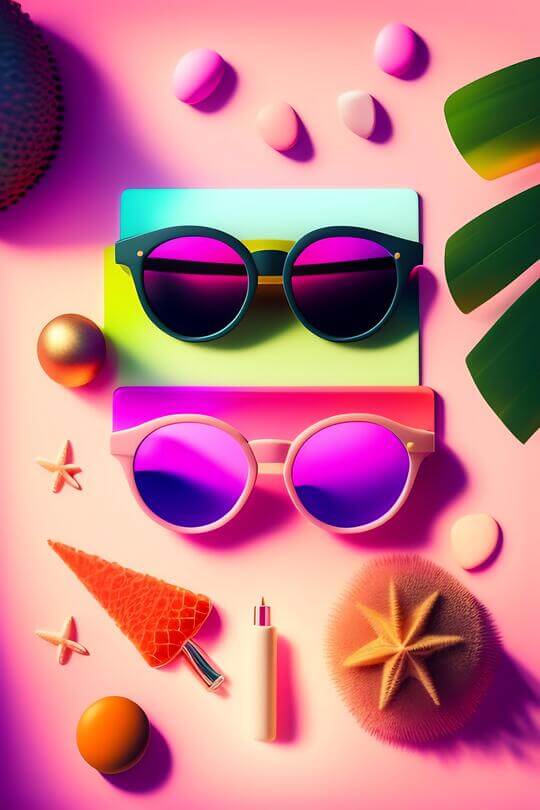 You've got plenty of options when it comes to space-themed sunglasses for a costume. Go for a pair of black framed specs in the classic elongated "alien eye" shape if you want to rock an extraterrestrial vibe, or a futuristic "cyclops" pair of sunglasses with a single continuous mirrored lens for a futuristic space look.
You could also opt for oversized goggle-type shades that work well for a spaceman or woman costume – or to really get the party started, go with a set of sunglasses that light up and flash in a range of bright neon colors. Alternatively, go all out with an extra-oversized pair of shades set with orange, red, or green-tinted lenses and frames decorated with UFOs, planets, and other space motifs.
3. Cosmic Sunglasses from Quay
And if you want something really special? The Cosmic model of sunglasses was launched by eyewear brand Quay in 2019. The "cosmic" refers to the ultra-sleek and futuristic style of the shades, which feature an oversized, almost-translucent frame with a bold browline, single continuous black lens, and geometric shape.
Unfortunately, this model from Quay is no longer available. However, pairs do come up for sale fairly regularly on online auction and vintage sites – expect to pay in the region of $40 to $50 for a good quality set.
4. Original Pilot Sunglasses from American Optical
Want to channel some real-life astronauts with your eyewear choice? Then, the Pilot shades from American Optical are what you need. This model has been worn by NASA pilots since 1958, including those on the Mercury, Gemini, and Apollo missions. With an aviator-shaped frame incorporating 23K gold plating, these sunglasses are manufactured to stringent military standards for the ultimate in performance – and look good, too.
For a contemporary edge, customize your pair of Pilots by choosing a matte silver frame and green nylon lenses. As well as offering 100% UVA and UVB protection, these shades are scratch and impact-resistant and boast anti-reflective and anti-smudge coatings. You'll pay around $200 for American Optical Pilot sunglasses.
5. They Live Sunglasses
Really want to geek out with a pair of space-themed sunglasses? Then, choose a pair that is a subtle nod to the cult 1988 movie They Live, directed by John Carpenter. This film, based on the 1963 short story Eight O'Clock in the Morning penned by Ray Nelson, follows an unnamed drifter who discovers that the ruling class is, indeed, an alien species masquerading as humans, with a view to manipulating the populace. How does the protagonist find this out? Through a special pair of sunglasses, of course, that allows him to – when they're worn – see the aliens in their true guise.
While the sunglasses sported by Roddy Piper (playing the drifter) in They Live may have been specially designed for the movie, you can get very close to the look with a classic pair of Wayfarers from the legendary eyewear brand Ray-Ban. Complete the look with a blue plaid shirt, blue jeans – and, for the truly committed, the obligatory 1980s mullet haircut.
The Takeaway
There are lots of reasons that you need a pair of cosmic, space-themed sunglasses in your life, whether for fancy dress party fodder or to uplevel your festival look. Use the above guide for the inspiration you need to take your cosmic sunglasses look to another dimension!
In Case You Missed It!